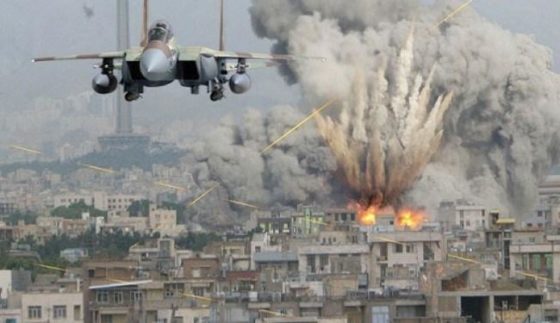 It was announced yesterday that president Donald Trump was withdrawing the United States from the 2015 Iran nuclear agreement.  Almost immediately after the president announced the withdrawal, Israel began bombing Syria allegedly targeting Iranian missile sites.
Nine pro-Syrian fighters were reportedly killed in the Israeli airstrike near the Syrian capital of Damascus on Tuesday. The attack came just moments after Trump announced the withdrawal from the 2015 nuclear deal enacted by Barack Obama.
"Over the years, Iran and its proxies have bombed American embassies and military installations, murdered hundreds of American servicemembers, and kidnapped, imprisoned, and tortured American citizens," Trump said in a statement on Tuesday, according to Business Insider. "We will be instituting the highest level of economic sanction," Trump continued. "Any nation that helps Iran in its quest for nuclear weapons could also be strongly sanctioned by the United States."
Iranian President Hassan Rouhani told a cheering crowd of thousands Tuesday that if any country decides to betray the 2015 nuclear deal, there will be "severe consequences."  Although Rouhani didn't specifically name the United States, he did say that Tehran is "prepared for all possible situations." –SHTFPlan
Israeli forces determined there were"abnormal movements of Iranian forces" in Syria as motivation for the attack. On Tuesday night, state-owned media outlets in Syria reported that its air defenses had intercepted two Israeli missiles; however, the Syrian media is believed to have inflated its defensive capabilities in the past. The reported strikes targeted an "arms depot belonging to Hezbollah and the Iranians," according to Rami Abdel Rahman, the director of the Syrian Observatory for Human rights, according to the Associated Free Press.
US officials are now becoming increasingly concerned that Iran could retaliate, and strike Israel. According to CNN, there are increasing concerns Iran is on the cusp of an attack against Israel, several US military officials told the mainstream media outlet. Intelligence is not clear on when an attack could come and what form it would take, they said, with one official noting that "if there is an attack it might not be immediately clear it's Iran.
"When it comes to weapons and defending our country, we will not negotiate with anybody," President Hassan Rouhani said.  The US's decision to withdraw from the nuclear agreement will be a "historic mistake," he added.