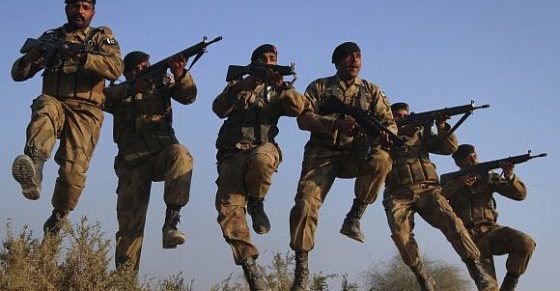 The world is watching the conflict in the Kashmir region of the India/Pakistan border with bated breath.  Not receiving much attention in the mainstream media, is the war breaking out right now on the other side of the globe.
Just last week, Pakistan declared it was "worried" about India's drone technology, and now the Pakistani military has declared they've shot down an Indian drone.
According to The Express UK, the Islamabad military issued a statement yesterday declaring that the craft had been shot down after violating Pakistan airspace. "Pakistan Army troops shot down an Indian spy drone while it violated LoC in Chirikot Sector. The drone has been taken over by Pakistan Army troops. This is 4th drone which has been shot down by Pakistan Army troops in last one year," the statement read.
This comes just one day after Chinese president Xi Jinping flexed his military muscle in the area of Doklam, a retired lieutenant general from the Indian Army's Special Forces has claimed.  "But war is very much in the realm of reality, and India must be prepared to fight and can ill afford to let its guard down on either the Pakistani or the Chinese front. India must prepare for a two-and-a-half-front war," said Prakash Katoch.
While Americans fight on social media over whose rights should be taken away and dope up on their antidepressants, other nations are gearing up for a horrific war. Mohammad Faisal, the Foreign Office spokesman for Islamabad, displayed heightened concerns in a weekly media briefing. "India's development of drone technology is worrying when seen in the larger context of its buildup and expansion of military capabilities in the conventional and non-conventional domains, which are subjecting regional strategic stability to increasing strain."
As confrontations between the two nuclear-armed nations continue to rise, Pakistan pointed the finger at New Delhi last week for committing 400 ceasefire violations in contested areas. Pakistan has vowed to seek revenge on India for their aggression, while New Delhi points the finger at Pakistan.