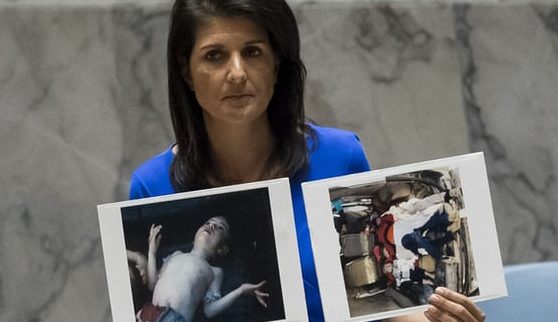 United States ambassador to the United Nations, Nikki Haley has just issued a warning to Russia and Iran. Haley says the two countries should prepare for "dire consequences" if they continue air assaults on the last rebel-held area in Syria.
Russia's ambassador to the UN ramped up the war rhetoric and responded to Haley's threat with a denial that Syria has any chemical weapons. The UN secretary-general then also warned of a potential "bloodbath" during Tuesday's UN Security Council meeting on the crisis in Idlib, Syria, according to a report by CNN.
During the second UN session on Idlib in four days, Haley told the council that "the world has seen a clear military escalation" this month by Russia and the Syrian regime, whose forces have conducted more than 100 airstrikes, using "barrel bombs, rockets, and artillery" in an attempt to retake the last rebel holdout after more than seven years of war.
Haley also continued her accusations saying that both Russian and Iran have little interest in a political solution. She then called their actions those of "cowards interested in a bloody military conquest." Haley added, "If Assad, Russia, and Iran continue down the path they are on, the consequences will be dire."
"I also want to reiterate what I said last week to the Assad regime and anyone else contemplating the use of chemical weapons in Syria," Haley added. "The United States followed through when we said that we would respond to the use of chemical weapons. We stand by this warning." However, the Russian military claims to have evidence that the chemical attack was staged by the very people Haley and the US seem intent on backing.
"I'm not going to tell the world ahead of time what we're going to do. It's just not my style," Secretary of Defense James Mattis said when asked if and what kind of retaliation the US military would carry out should the regime use chemical weapons in its offensive against Idlib. According to CNN, Mattis would not commit to military action, but ramped up the rhetoric nonetheless saying that Syrian leader Bashar al-Assad has "been warned."
"I never talk about what would come next," Mattis said. "But I think that you do have to look at the fact that we will abide by the chemical weapons prohibition and support it." When asked what the US has specifically done to prevent their use, Mattis referred to US, United Kingdom, and French strikes on Syria after a chemical weapons attack, which appears to have been faked by the White Helmets according to Russia, in April. Assad "has been warned," Mattis said. "The first time around he [Syrian president Bashar al-Assad] lost 17% of his pointy-nosed air force airplanes. He's been warned. And so we'll see if he's wised up."