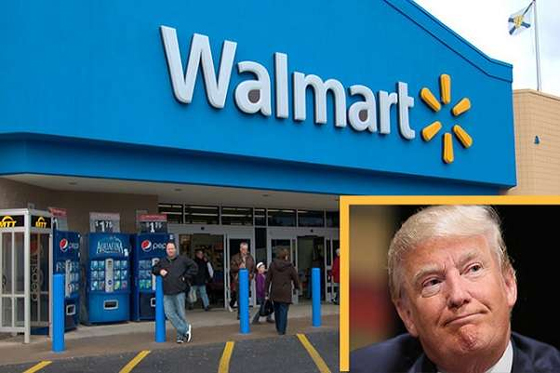 Walmart shoppers love the everyday low prices (apparently too low judging by this morning's earnings guidance) they get shopping at the largest big box retailer in the country, but they apparently don't give a rip about the political beliefs of its executive management team. 
 In fact, Walmart shopper Ed Congdon of Indiana thinks "all CEO's should keep their mouths shut" about political issues unless they want to be a political pundit, in which case they should "go on CNN." Per the New York Times:

"I think all C.E.O.s should keep their mouths shut," said Mr. Congdon, 63, who was listening to the Rush Limbaugh radio show while his wife shopped inside. "You want to be a political pundit, go on CNN."

Mr. Congdon, who drives tractor-trailers for a living, said he agreed with President Trump's hesitation to place the blame for the violence solely on the "conservative side."

"The biggest problem is that they're not calling out the liberal side of things," he said, adding that the Virginia protesters should be "investigated" as to who "paid them."
Of course, these comments come as Walmart shoppers around the country are being asked to respond to CEO Doug McMillon's statement released yesterday which, among other things, criticized President Trump for his response to the Charlottesville tragedy.  Here is the full statement he made yesterday per CNBC:
Respect for the individual is one of our core beliefs at Walmart. And the role we play in communities around the country to build a more diverse and inclusive society is more critical than ever as the tragic events in Charlottesville over the weekend painfully reminded us. Our prayers are with the victims and their families.

As we watched the events and the response from President Trump over the weekend, we too felt that he missed a critical opportunity to help bring our country together by unequivocally rejecting the appalling actions of white supremacists. His remarks today were a step in the right direction and we need that clarity and consistency in the future.

Our country is facing some very difficult issues that require our elected officials, business leaders and community-based organizations to work together. Representing a company with the largest and one of the most diverse groups of associates in the U.S., and an even more diverse customer base of tens of millions of customers, we believe we should stay engaged to try to influence decisions in a positive way and help bring people together. I will continue to strongly advocate on behalf of our associates and customers, and urge our elected officials to do their part to promote a more just, tolerant and diverse society.

Thank you for representing Walmart and our values today — and every day.
Of course, not everyone disapproved of McMillon's comments.  Shandra Tenney of Las Vegas simply didn't think she could "come here and give them my money" unless Walmart's CEO publicly clarified his stance on Trump's political controversy…after all, anything less than a public rebuke of the President at this point is clearly a full endorsement of radical white supremacist groups and hate crimes of all types.
"I'm pleased with the C.E.O.'s response," said Mr. Ellington, 40. "He was spot on. What Trump did was miss a very critical opportunity. Considering today's society and climate, those types of opportunities are important and not to be wasted. To have the president in office not stepping up is a disgrace to the office."

Shandra Tenney, 25, agreed. A married dental assistant, Ms. Tenney left the store with a bounty of the 12-packs of soda that were on sale.

"If the C.E.O. had been for Trump after what he said yesterday, I don't think I could have come here and given them my money," she said. "I'm really happy they are standing up to this guy. These business guys, and Trump is a business guy, are saying something. And they are saying, to me, they don't think he's a good guy to be in business with. It says something."
Meanwhile, Peter Caprio of New Jersey seemed to interject some logic into the New York Times' narrative…"If it doesn't affect stockholders, best to let it go."
Mr. Caprio, a school business administrator, said Mr. Trump had made fair points in his news conference on Tuesday, when he said the violence was not just the fault of the white supremacists. "He was right; it's on both sides," he said.

But even if he might have agreed with Mr. McMillon's position, he suggested it was not appropriate for the chief executive of a big company like Walmart to comment on politics.

"The C.E.O. has to worry about stockholders, nobody else," Mr. Caprio said. "If it doesn't affect stockholders, best to let it go."
Perhaps someday America's CEOs will learn that while 100% of people may approve of their products, roughly 50% are always going to disagree with their political views.  Maybe these CEO's would be well-served to remember they're fiduciaries of public companies hired to pursue whatever is in the best interests of shareholders….not elected officials that need jump on TV every single time a national tragedy strikes.