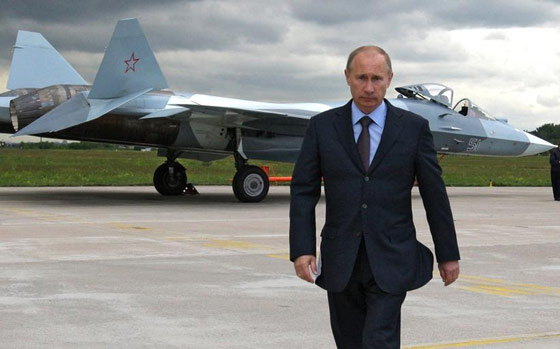 Russia's president Vladimir Putin is actively preparing for a third world war. In his preparations are plans to make the West and Ukraine make choices that will be difficult, as he shows just how expensive it will be to wage a war against Russia.
According to the Kyiv Post, Avraam Shmulyevich, an Israeli political analyst says, Putin's war preparations are well in advance of forcing Ukraine and the West must decide whether Kiev is "an ally of the West or part of the Putin system." The Kremlin leader's actions are designed to show the West just how expensive it will be for it to support Ukraine against the Russian leader.
Scmulyevich makes the comments about Putin's world war III preparations during an interview with Taavi Minnik, a journalist for Tallinn's Postimees newspaper. While commenting, Scmulyevich makes it perfectly clear that he believes Putin is not planning for "the small victorious war" many talk about but rather about something even more violent and global. "There is no opposition in Russia; all opposition figures (except perhaps Navalny) are either in the West or more likely under the control of the FSB. The West isn't supporting any real opposition or spending money to oppose Russian propaganda."
"Putin has a very powerful repressive apparatus. In fact, nothing threatens him," Scmulyevich said. "The West's problem is that it doesn't listen to Putin who with remarkable candor says what he wants. He said it already in Munich: he is seeking to reestablish the Russian Empire. Putin wants the greatness of Russia as he imagines it at the end of the 19th and beginning of the 20 centuries."
"Putin wants to return what was lost with the disintegration of the Soviet Union. He has pursued that goal through his entire period in office, building up a repressive apparatus and a military and putting the economy on military rails." Given Putin's goal to take over Ukraine, Scmulyevich says the Russian president will need a third world war. "Putin doesn't need 'a small victorious war' but a big war which will give him control over Europe and the world."
Everyone must understand that "Putin is preparing for a  third world war and for revenge," Shmulyevich says.