The good folks over at Financial Armageddon ask Are We Half Way There? with respect to the real estate market and cite an article from the News Observer that gives us some insight into would-be home seller sentiment:
Although Donna Roberts' Cary house is for sale, she was not among the hundreds of Triangle homeowners who participated in a nationwide open house event over the weekend.

Instead, she used the weekend to scope out the competition, touring homes in her Lochmere neighborhood that are priced similarly to her own.

Roberts' house has been on the market since late March. Initially listed for $825,000, the house is now at $779,000 after two price reductions and just four showings.Click here to find out more!
Fearing further discounts, the neighbors on her cul-de-sac are now upset at her for selling. "It's tough now," Roberts said. "But housing prices could go down even further.

"There's no good time to sell right now, unfortunately."

After years of assuming the housing market couldn't get any worse, a growing number of Triangle homeowners and agents are now resigned to the fact that no one seems to know when it will hit bottom.
We've frequently suggested that the real estate market is nowhere near its decline even though home values across the country have seen price drops of nearly 30%. While The Fed attempts to 'stabilize' housing by printing more dollars in the hopes that prices will not deflate, the policy, as evidenced by recent home sales numbers and values, clearly indicates that one of the largest bubble collapses in the history of man kind is farm from abating.
For those of our readers who would like an example of how bad things can get in a market that was supposed to go up for ever, we need only look at the recent historical example of Japan, a country that saw real estate declines of 75% (inflation adjusted) since their bubble popped in the early 1990's. It is for this reason that our outlook for the US housing markets is dismal, and if Japan is any guide, we will likely see a 25% to 50% decline in prices from here as the pendulum swings from Euphoria to Despondency.
A great visual of where we are today and where we're headed in terms of investor emotion and market sentiment is provided by Russell Investments: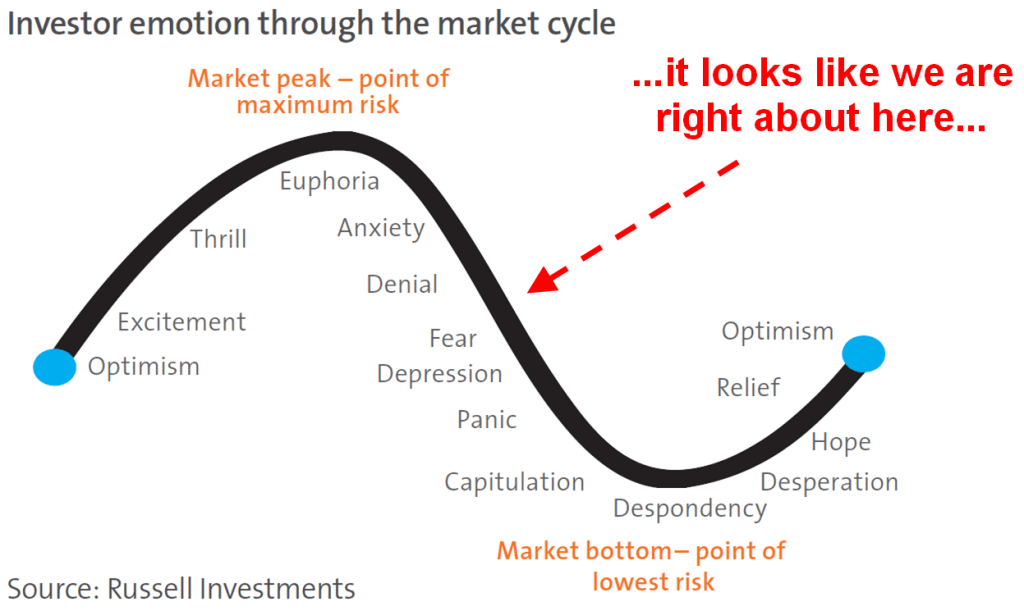 We all remember the euphoria and anxiety around the time of the real estate bubble pop in 2007 and 2008. Speaking with neighbors and friends who own their homes, some of whom are trying to sell their homes right now, it becomes fairly clear that  the chart above has pegged the current emotional state of investors almost exactly.
Many are still in denial, believing that those trillions of dollars in bailouts and the rhetoric from Washington will save their home values, jobs, and retirement accounts. A good number, especially those who have lost their jobs or have had their homes on the market for several months, are coming to the realization that things may not actually be as has been presented by state sponsored media. The fear and depression are setting in, and as this crisis unfolds – be it with another stock market crash or continued inflationary melt up – panic will become the emotion du jour.  Eventually, people will give up, surrendering themselves to the realization that life as they know it has changed drastically. Most will never experience the booming lifestyles of the middle class nouveau riche of the late 20th century again in their lifetimes.
When the "Hope" bumper stickers start being scraped off your neighbors' vehicles you'll know that we have reached the bottom of the cycle – despondency. You may also recognize this bottoming out by mass protests, civil unrest and riots, as this particular crisis is not a typical bubble bursting. It affects not just real estate, but every aspect of our economy including employment, credit lending, production, consumption and national debt.
There will be blood in the streets (figuratively and probably literally). Realizing and accepting that this is the natural progression of events given the situation in which we find ourselves will make it much easier to understand, cope, and prepare for what's happening around us and what's coming our way.