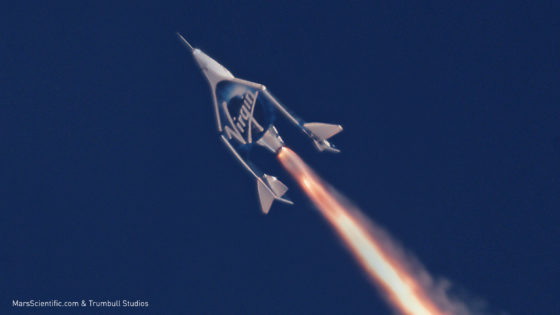 Virgin Galactic, a private company whose goal is to send tourists to space in the near future, created a supersonic plane that was able to reach space. The plane successfully soared into the upper reaches of the Earth's atmosphere on Thursday for a milestone flight.
CNN Business reported that the rocket-powered plane, VSS Unity, was flown by two veteran pilots to a maximum altitude of 51.4 miles, surpassing the 50-mile mark that the U.S. government recognizes as the edge of space. The government uses the 50-mile mark to award astronaut wings.
The test flight took off from the Mojave Air & Space Port in California at 7:11 am PT. Richard Branson, Virgin Galactic's founder, was at the launch watching with a crowd of spectators. "I hope we go to space today," Branson said ahead of liftoff.  VSS Unity took off attached to its mothership, WhiteKnightTwo. When they were about 43,000 feet in the air, VSS Unity's pilots commanded the plane's release from the mothership. After a few seconds of coasting, VSS Unity's rocket engine engaged and drove the vehicle directly upward at supersonic speeds.
There has still been no word from Virgin Galactic of when the company plans to be ready to take people into space. "Incremental flight test programs are by definition open-ended and, to a great extent, each test depends on the data from the test that precedes it," the company said. "There is no guarantee that everything will work perfectly first time and, like all programs seeking to take bold steps, we will inevitably have times when things don't go as planned."
Virgin Galactic is set up to compete with Blue Origin, the space company founded by Amazon billionaire Jeff Bezos in 2000 to offer suborbital tourism flights. Both companies are still in the testing phase, however, Blue Origin has yet to sell any tickets yet.  Virgin Galactic has already sold some tickets from $200,000 to $250,000 and some of those have been waiting for a decade to take the expensive flight.
When asked about Virgin Galactic's competitors in a recent interview with CNN Business, Branson said it was not a "race" to see who could make it to space first, instead, safety is key. "Safety's all that matters if you're putting people into space," he said.