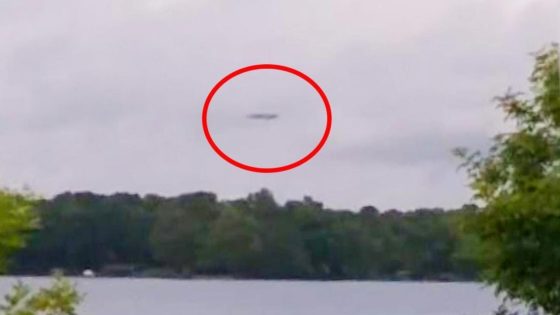 A viral video of a UFO (unidentified flying object) over Lake Norman in North Carolina has speculations surging.  The video was shot in Mooresville as the cameraman was at work, and it appears to show the "spacecraft" hovering over the lake.
The exceptionally shaky video, posted by Jason Swing on May 29, was taken over Lake Norman in North Carolina. It's difficult to tell what is in the video because there is no zooming in nor is the video even steady for very long. It has gone viral, however, having been viewed more than 250,000 times, as viewers scratch their heads trying to make sense of what they are seeing, reported Fox News. 
Watch the video below and see for yourself.
In the video's description, Swing says that he was at work at 10:30 a.m. on a rainy day when he spotted the UFO hovering over the lake. "Rain finally stopped so we went [to] pick up a boat from Lake Norman," Swing wrote. "When [I] came around the corner, I saw this thing sitting still, very close."
Many viewers immediately chastized Swing's videography skills too, commenting on the shakiness of the video.  "Next time you try and film a UFO, please try to jump around a little more. Also, adding a degree of blur would be a good touch. Geez.," one viewer wrote.
"I'm videoing a UFO. But I've got something more important to do. Later," another commenter wrote.
"Aliens always reveal themselves to people who shake uncontrollably and have no idea how to operate a zoom," another commenter wrote. "Classic alien jerk move."
Others were more forgiving as they viewed the cigar-shaped object. "Hello, this a great catch and I was hoping to show it on my channel with full credits and links back to yourself," wrote one commenter known as The Hidden Underbelly 2.0. "Please let me know if this would be okay with yourself. Thanks and god bless."
Some believed the sighting was nothing more than a Goodyear blimp, which was in the Charlotte area on May 29 for the NASCAR race.
Goodyear has since confirmed that it was indeed their blimp, though. "We don't want to get in the way of a good story, but that's definitely us," the Goodyear Blimp account wrote, according to the Daily Mail. "We left the Charlotte area 5/29 after covering the Coke 600."