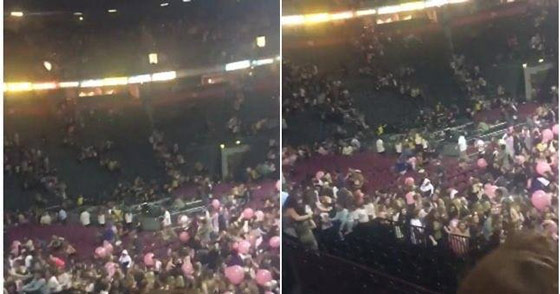 Update 1: Britain is now on its second highest alert level, meaning that an "attack by militants is considered highly likely." (Reuters)
***
Multiple explosions have rocked an Ariana Grande concert in Britain this evening with eye witnesses reporting that the blasts were "massive" :
'There was a bang in the left tunnel and everyone went to the middle tunnel. Then about two minutes later, there was another bang. The bang was so loud and crowds of people were running. There were lots of children and families there.'

Another witness Jenny Brewster told MailOnline: 'We were exiting the building when it happened. We'd headed towards the main doors as Ariana was performing the last song because we wanted to beat the crowds, but – as we made our way there – a wall of security men blocked it and told us to go the other way.

'Seconds later they shouted 'RUN!' and the explosion happened right behind them. Hundreds of people were running and screaming. Those men saved our lives.'

Catherine Macfarlane told Reuters: 'We were making our way out and when we were right by the door there was a massive explosion and everybody was screaming.

'It was a huge explosion – you could feel it in your chest. It was chaotic. Everybody was running and screaming and just trying to get out of the area.'
With multiple bombs going off at the concert, one can only conclude that this was no accident.
The explosions appear to have been coordinated to push crowds into specific directions where more devices were subsequently detonated.
Eye witness report: "Explosion Threw Me 30 Feet"
Video:
— ♡♡ (@hannawwh) May 22, 2017
The first massive explosion can be heard in the following video:
FRIGHTENING… Explosion at Ariana Grande concert in Manchester heard on dash cam footage outside the Arena. pic.twitter.com/U3TmMHKXk5

— Alan Fisher (@Alanfisher100) May 22, 2017
Panic:
Though police have offered no information as to possible suspects or motives, this appears to be a coordinated terrorist attack.
Europe, you are signing your own death certificate. Terrorists just targeted a concert frequented by young children. #Manchester #Ariana

— Based Monitored ?? (@BasedMonitored) May 22, 2017
Related: Is The Islamic State Planning To Strike The United States With Chemical Weapons Of Mass Destruction?