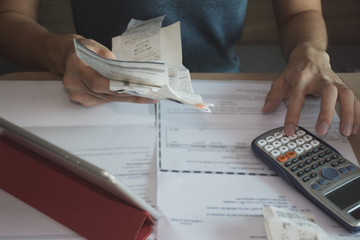 Americans have gotten themselves into a predicament.  With debt levels at all-time highs, 40% of those living in California and New York want to flee their states for tax havens and less socialist policies.
YouTube channel, Money GPS has been putting together videos laying out the major problems with obtaining debt.  Most Americans start right out of high school with student loans, and supplement their lifestyle with credit cards, shackling them to debt repayment for a good portion of their lives.  But the debt problem continues to compound and rather than pay off their debts and reach financial freedom, Americans take out more loans. In fact, according to Money GPS, it's so bad today that many people in New York and California suggest they literally can't afford to live there anymore and are considering moving.
The debt crisis will collapse the nation. –Money GPS
And once you add the high cost of socialist policies onto the backs of the already majorly indebted, far too many Americans are flung into poverty by not being able to keep what they have earned. Now, 40% of Californians and New Yorkers want to flee their high-tax socialist utopias for some freedom and to experience less theft (taxation), and those numbers are exponentially on the rise. According to CNBC, known for putting a leftist/socialist spin on the news, Californians' main fear was the cost of living.  But that is literally and entirely the government's fault for instituting policies that require massive amounts of theft to cement.
In a poll which aimed to "pinpoint what's causing the worst financial fears and stress among Americans,  California residents said their top financial stressor was the general cost of living.  Housing costs, made high by regulations, are forcing many residents to rethink where they've chosen to live.
New York residents, when polled, reported the same kind of problems.  Those who work for the government continue to line their pockets with money taken from the middle class.  This is causing the middle class to all but evaporate. According to the New York Post, the poll determined that more than a third of all city residents say they can't afford to live anywhere in the state, let alone the "Big Apple" or New York City. Residents also believe economic hardship will send them packing in five years or less, according to a dismal new poll.
41 percent of New York resident fear they'll be "forced" to pull up stakes and seek greener pastures where the economic climate is more welcoming. "They are making this city a city for the wealthy [government elitists], and they are really choking out the middle class,'' said Ari Buitron, a 49-year-old paralegal and born-and-bred New Yorker from Forest Hills, Queens. New Yorkers are being lured down south thanks to the state's immense tax burden and new federal tax policies that punish high-tax states, according to Miami property magnate Gil Dezer. "Because of the city tax and the non-deductibility of your real estate taxes, we're seeing a lot more people with piqued interest," he told The Post.