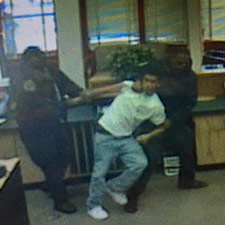 Video has emerged of school security officers in Oakland, California, attacking a student, seemingly for no reason. School officials attempted to cover up the incident, according to reports, until the footage was released.
The footage shows the security officers dragging and tussling with a 15-year-old Fremont High student across the hallway. When the student attempted to break free from a choke hold, the officers allegedly punched and beat him.
While the incident happened over a year ago, the footage has only just emerged. Police, security and school officials had denied that the fracas ever took place, but now the security officers have been suspended pending a criminal investigation.
The student's 'crime' appears to have been hanging around in the hallway and not moving when asked. The student was waiting for a meeting with an administrator.
"In this case, I don't see him doing anything but standing at the threshold of the door," said Oakland Unified Police Chief Jeff Godown, who has called for an investigation.
"The argument was that he was obstructing the people coming in and out of the door." Godown added.
"You don't put your hands on a kid unless you've got justification to do it. And based on what I see in this video, unless something comes up afterward, I don't see justification for it." Godown told reporters.
The chief added that the officers are seen using a carotid artery arm hold, which only police officers are trained to use, rather than district police or school security officers.
"I just don't see any reason for them to have physically touched him or pushed him," he said. "You see the kid punch the (school security officer), which he admits because he's choking to death."
"The only narrative in entire (district police report) that had any truth to it is the child's statement," said the chief, noting that he will now review the last five years of similar cases.
This article was originally published by Steve Watson at Infowars. You can continuing reading the full report here.