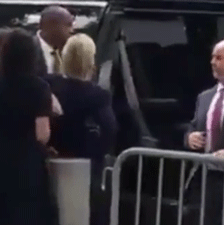 Early reports indicated that Hillary Clinton may have suffered a medical incident at this morning's September 11th memorial, though much of the media immediately downplayed the incident.
We now have confirmation that the incident did, in fact, happen.
In the following video Clinton can be seen standing with her Secret Service entourage.
She is seen wobbling and then falling forward before being caught by one of the agents.
Another angle – Hillary is out cold and had to be carried into van:
Fox News Video Report: "She Was Clearly In Distress"
Could it be the pollen in the air again?
Or does this video confirm that Hillary Clinton is suffering from any number of medical conditions that may include Parkinson's Disease, cerebral sinus thrombosis and possibly even brain damage?
Last week 71% of doctors surveyed by the Association of American Physicians and Surgeons said that Clinton's condition is "serious" and "could be disqualifying for the position of President of the U.S."
Also See: Must Watch: The Truth About Hillary's Bizarre Behavior: "Does She Have Actual Brain Damage?"