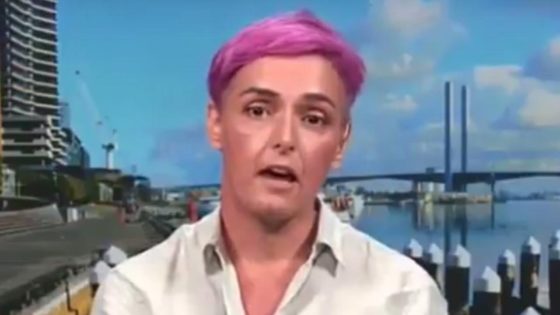 Leftists just continue to get stranger in their ideology and quest towards a completely totalitarian/government-controlled society.  But now, one bizarre woman claims that parents need consent from their babies before a diaper can be changed.
A fiction novel could never do justice to the ridiculousness of the modern liberal. This is evidenced in an interview conducted by ABC with a terrifyingly serious woman who claims parents should have to get consent from their babies before removing fecal matter from their behinds.  The woman who made the ridiculous claim is now under fire.
Deanne Carson, who describes herself as a "sexuality educator, speaker, and author" on Twitter says asking the babies permission would set up an atmosphere of "consent" from birth.
Don't believe us? Have a look at the video:
 Not kidding – look:
She even admits the baby can't actually respond with consent, but it's the thought that counts.  "Of course the baby is not going to respond, 'Yes mum, that's awesome. I'd love to have my nappy changed.' But if you leave a space, and wait for body language and wait to make eye contact, then you're letting that child know that their response matters," Carson says. 
What kind of body language are we waiting for here? A different response than a baby screaming because the feces stuck to their sensitive skin is irritating?  This woman is a lunatic and we aren't the only ones who thought so.
LAD Bible reported that many people who saw the segment were completely in amazement at the level of irrationality displayed. People were left feeling pretty confused, shocked and annoyed by her comments, with one writing on Twitter: "If parents are getting advice from this woman about raising a baby then the baby should be removed from parents care."
Another wrote: "What in the hell is WRONG with these people?"
Someone else said: "Must admit I was watching the whole interview open-mouthed and shaking my head when it was broadcast, and couldn't believe the interviewer wasn't remotely questioning some of the nonsense this lady was coming out with.
Sky News commentator Rowan Dean heard about Carson's comments and was not happy, accurately slamming the segment as "lefty lunacy" on air. "Here we go, Ross," Dean said to his co-presenter. But he seemed pretty lost for words by the segment, adding: "A consent for changing nappies – I think that might get a bit, uh… Anyway, I won't go there."