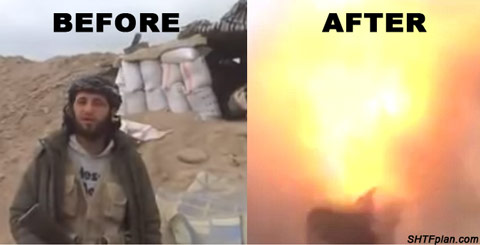 The Islamic State loves to share propaganda videos of beheadings and mass murders of innocent victims, including children and those whose only crime against Islam is that they are Christians.
Thus, it is with great pleasure and a smile that we share the following short video clip from the Syrian border in which an Al-Queda affiliated Islamist rebel filming his latest propaganda video is vaporized by a mortar shell.
Standing in front of a makeshift bunker, the man is speaking about his pride over capturing the town of Tal Sukayk. "Thank God, it turned out to be easier than we thought despite the fact that this position was very important," he says just a blink of an eye before an artillery shell crashes down on his position – and we mean directly on HIS position.
After the impact screams of pain can be heard, presumably from the fighter in the video and his cameraman.
Slow motion version:
It couldn't have happened to a better bunch of Jihadis.
Also Read:
Switzerland Bans Burkas: "Those Who Rebuff Our Values Are Not Welcome"
The Refugees Didn't Realize This European Woman Was Fluent in Arabic
Drudge Sends the Biggest Secret Viral: "America Has Been Arming ISIS"