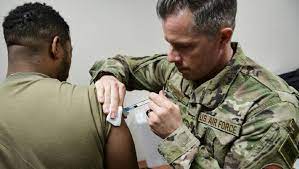 The United States Navy is going to begin their purge of those who refuse to follow orders and just get the "vaccine." New guidance warns that those not fully vaccinated by November 28 will be discharged.
Vaccination is of "paramount importance" to maintaining the health of personnel and the battle-readiness of the force, the guidance released on Thursday says. "Sailors must be prepared to execute their mission at all times, in places throughout the world, including where vaccination rates are low and disease transmission is high," it states.
If we are being honest, we know the government doesn't care about "battle-readiness" as much as it does having a crew of willing order followers. Those who refuse the "vaccine" are not the people they need to enforce the New World Order. We know this vaccine is a large piece of the agenda, and this move by the Navy further cements that reality.
Because the Centers for Disease Control and the ruling class are so disingenuous with how they count "fully vaccinated" (people are usually considered to be fully vaccinated two weeks after both doses are administered), the sailors should receive their second shot by November 14 in order to meet the deadline, according to a report by RT. 
Navy Reserve sailors have also been told to be fully vaccinated, but they were given more time. They have until December 28. Those who refuse could receive a general discharge under honorable conditions, the guidance warned, which could result in the loss of some veterans' benefits.
According to the new rules, senior officers have just five days to comply with their superior's order to be vaccinated or face detachment for cause proceedings.

"An unvaccinated senior leader without a pending or approved exemption calls into question the Navy's trust and confidence regarding their ability to ensure unit readiness or to maintain good order and discipline," according to the guidelines.

Navy figures indicate that there are around 7,000 unvaccinated sailors in its ranks whose careers in the force are now at risk. About 98% of Navy personnel have received at least one dose of the vaccine. –RT
Translation: we need obedient order followers to usher in the New World Order. Those who disobey are not fit to help us force our totalitarian enslavement on humanity.
The Navy isn't the only military branch to have introduced a vaccine mandate, with the US Army telling troops to be fully immunized by December 15, and the Air Force, setting a deadline of November 2.
We are about to witness just how far those troops are willing to go to comply and obey the orders of the ruling class. Stay alert and aware. Things are ramping up. This is going to get uglier by the end of the year.