The images below are from 2006, but remain relevant given what is going on today. We can be fairly certain that the sentiment remains.
The American flag comes second to some of those enjoying the very rights that tens of thousands have died to protect.
You will not see this heart-stopping photo on the front page of the NY Times, nor on the lead story of the major news networks. The protestors at Montebello High School took the American flag off the school's flag pole and hung it upside down while putting up the Mexican flag over it.
Montebello High School in California: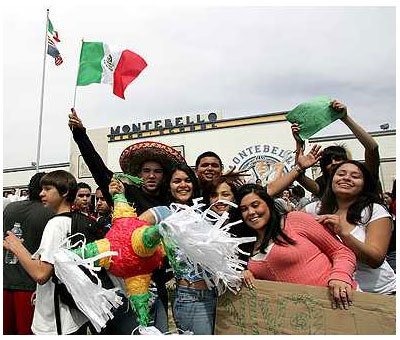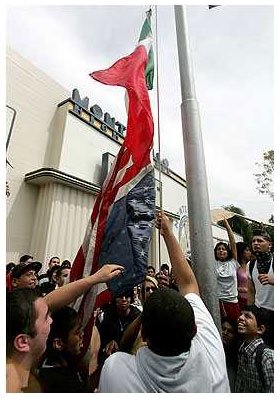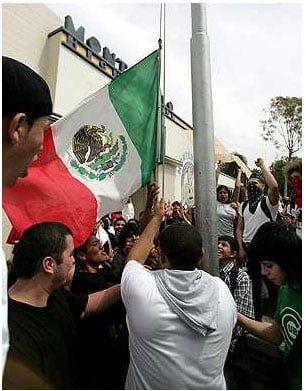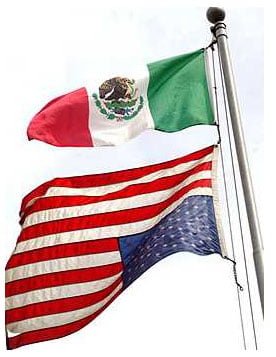 The following picture is from the Dallas Morning News and depicts student Michelle Marquez being screamed at and criticized for carrying an American flag at her school's Illegal Immigration Reform rally.
When asked about the incident, Ms. Marquez was quoted by the Dallas Morning News as saying:
My heart is with the Mexican flag and Mexico but I'm standing on American ground and I'm Mexican-American.
It's good to see that at least one of the hundreds of students protesting has an understanding of the respect the flag deserves.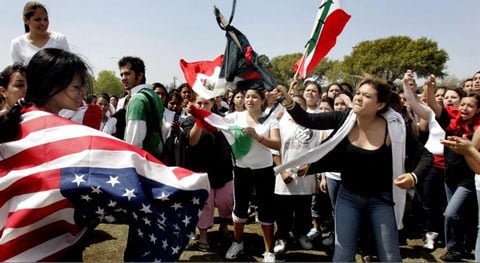 On December 18, 2009 we published a forecast from trend forecaster Gerald Celente who said that immigration would be the hot button issue for the 2010 mid-term elections, and it looks like he is right again.
Trend #5: Not Welcome Here

In 2010, the anti-immigration movement, long building, will arrive and stay in the US and abroad….In the US, with mid-term elections coming up, what to do about the "illegals" will be a hot- button issue that will top the political agenda and serve as a galvanizing force for a new party.
Arizona was first, and if their law is deemed constitutional (as it should be because it simply enforces existing Federal law) then more states will follow suit. Those states that do not enact anti-immigration legislation will see their immigrant populations explode over the coming years.
Hat tip Willie Wonka via Michelle Malkin's blog.