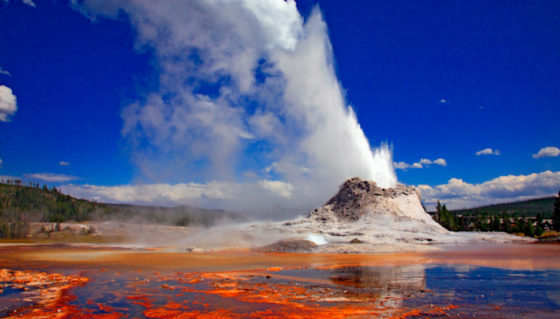 The world's largest active geyser has erupted three times in the past six weeks at Yellowstone National Park, including once this week, in a pattern that is highly unusual, according to geologists.  And scientists cannot explain what is causing the geyser to erupt.
One thing all scientists can agree on is that, as they've repeatedly told us before, the supervolcano churning below the serene scenery in Wyoming is not going to erupt anytime soon.  We shouldn't be taking any of the anomalies to mean as much either.
According to Reuters, the Steamboat Geyser, which can shoot water as high as 300 feet (91 meters) into the air, erupted on March 15, April 19 and on Friday. The last time it erupted three times in a year was in 2003, the U.S. Geological Survey's Yellowstone Volcano Observatory said.  The last time it erupted prior to March was more than three years ago in September 2014.
As always, there's nothing to worry about.  "There is nothing to indicate that any sort of volcanic eruption is imminent," Michael Poland, the scientist in charge for the observatory, said in an email.
This year's eruptions have been smaller than a usual Steamboat eruption, but the two in April were about 10 times larger than an eruption at the park's famed Old Faithful Geyser in terms on the amount of water discharged, he said.

Geologists have not pinpointed a reason for the latest series of eruptions, but say they could indicate a thermal disturbance in the geyser basin, or that Steamboat may be having smaller eruptions instead of one large. –Reuters
Since most geysers do not erupt on a regular schedule, "it might just reflect the randomness of geysers," Poland said. While the Steamboat eruptions are unusual, what would be far more worrying would be the water in the hydrothermal systems drying up, which could indicate that the super hot magma deep below was making its way to the surface -and an eruption could occur.