Outgoing Department of Homeland Security secretary Janet Napolitano ominously warned of a coming "cyber event" in an open letter to her successor this week, claiming that such an attack on the domestic internet "will have a serious effect on our lives, our economy, and the everyday functioning of our society."
With tensions at a breaking point in the middle east, and all military options on the table, there can be no doubt that we (meaning all sides involved) are now engaged in cyber warfare ahead of traditional military activities.
According to Akamai, which monitors global internet conditions, the United States is experiencing a surge in web attacks this morning, clocking in at 81% above normal.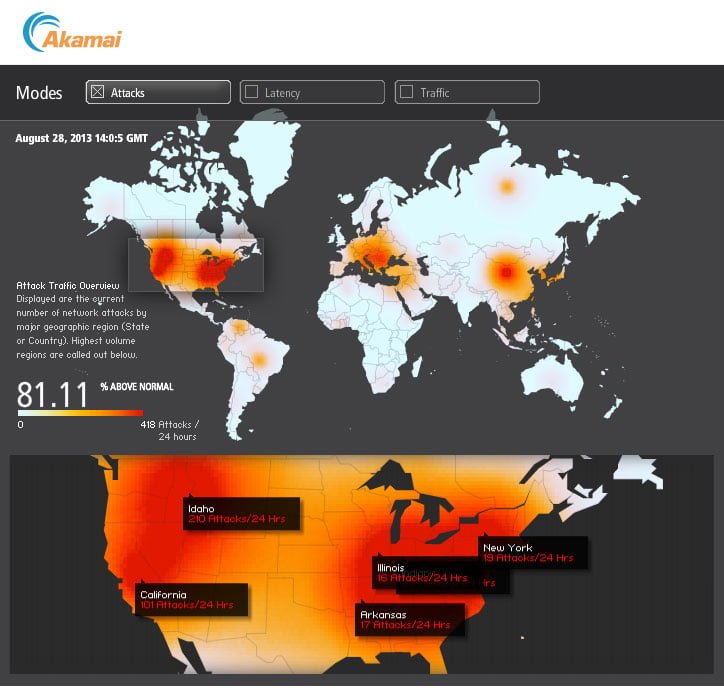 Via: The Woodpile Report
See the Real Time Web Attack Heat Map
While not necessarily indicative of an immediate threat to the national cyber infrastructure, the up-surge in web attacks comes on the heels of last week's breakdown of the NASDAQ trading system, which handles billions of dollars in capital flows on an hourly basis.
Last week may have been a prelude to what is to come should the United States and western allies launch another offensive in the middle east. As we reported last week, one major internet security firm indicated that the attack on the U.S. stock exchange was not a "glitch" as suggested by the NASDAQ. Rather, it may have originated from the Cyber Fighters of Izz ad-Din al-Qassam, an Iranian backed organization.
Russia, China, Iran, Syria and a host of other nations would like nothing more than to end U.S. hegemony in the middle east, and bringing down our domestic internet could be one potential strategy should conflict spread beyond the borders of Syria.
As noted by Napolitano, such an attack could be crippling to the systems of commerce that keep the U.S. economy moving. Should an attack, for example, target the merchant processing systems and large banking institutions like they did the NASDAQ utilizing a large-scale coordinated distributed denial of service attack (DDOS) it would paralyze the flow of money between customers, companies, and their financial accounts.
Such an "event" would have immediate consequences for all aspects of commerce including everything from just-in-time stocking of grocery stores and transportation systems, to labor force compensation and consumer activity.
In addition, DHS and well known Cyber Security firms like Norton and Mcafee have previously warned that attacks would likely not be limited to just our systems of commerce, but would also target physical infrastructure like the power grid, water plants and oil refinery operations.
When Janet Napolitano suggests the effects on our lives will be "serious," she means it. In a study looking at the effects of a widespread infrastructure outage that targets our power grid for an extended period of time it was noted that a large percentage of the population – up to 90% of americans – would be dead within a year.
The U.S. government has been simulating the collapse of our financial system as the result of a cyber attack for many years. They know this is a distinct possibility, so they are preparing for it.
We urge our readers to consider the ramifications of such an attack and make an effort to prepare personal contingency plans should it ever come to pass. The blow back could potentially be as disastrous as a nuclear weapon being detonated in a major U.S. city.