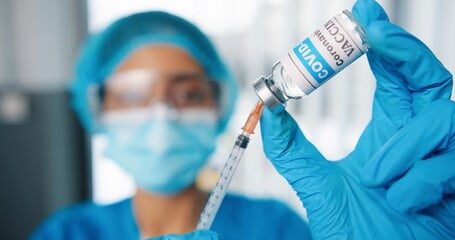 The United States hit a new milestone.  Over 150 million Americans are now fully "vaccinated" with the COVID-19 jab, according to the White House.
Perhaps the fear-mongering over the "delta variant" has worked to convince some holdouts, or perhaps that number is up as the U.S. begins giving shots to children as young as 12.  Either way, we are quickly approaching the halfway mark.
Roughly 46 percent of U.S. residents have completed their vaccination schedule, but that's still not good enough for the ruling class.  That's way below the 70 to 90 percent inoculation rate that Dr. Anthony Fauci, the nation's top infectious disease expert, has said is needed to achieve herd immunity, according to a report by the Washington Post. 
If this "vaccine" (which isn't a vaccine by the legal and real definitions) is so great, why is there a 24/7 propaganda campaign to convince people it's so great? Wouldn't we be able to see how great it is?  But the rulers say the vaccination rate needs to keep rising because of all of the dangerous variants out there. In fact, they are now trying to say it is the unvaccinated people that will be dying this fall if they continue to refuse to take this experimental gene therapy.
COVID-19 mRNA Shots Are Legally Not Vaccines
The transmission of the more contagious delta variant in the United States could spur a fall surge in coronavirus infections if only 75 percent of the country's eligible population is vaccinated, former Food and Drug Administration chief Scott Gottlieb said Sunday.
Although Gottlieb cited one projection forecasting an increase in infections reaching as high as 20 percent of last winter's peak, he called that an "aggressive estimate," saying he doesn't "think it'll be quite that dire." But he said states with low vaccination rates already are showing a concerning rise in cases with the spreading of delta, which is up to 60 percent more contagious than earlier variants. –The Washington Post
Gottlieb also pushed for another massive and ongoing "vaccination" campaign in the fall when people will be going back to school. He says that could be a good time to try to convince people they need to take the jab. The newest push is using the fear of "brain tissue loss" after getting COVID.  Check this out:
Those who had developed the illness experienced noteworthy tissue loss after infection in areas of the brain associated with the sense of taste and smell, the researchers said.
"It's very concerning because it does suggest that the virus could be having a direct effect on certain portions of the brain," Gottlieb said.
"I think what it suggests is that the balance of the information that we're accruing does indicate that covid is a disease that could create persistent symptoms," he said. "So, this isn't a benign disease. This is something you want to avoid. And the bottom line is, we have the tools to avoid it through vaccination." –The Washington Post
However, there was no link to the actual study conducted, it was only stated that UK Biobank was the one who performed the "brain loss" study.  Since they did this AFTER everyone got the alleged COVID, how can they know what these people's brains looked like before? Maybe they never had that brain tissue, to begin with. But there's no reason why Gottlieb would invent data or "lie with statistics" is there?
Gottlieb, who serves on the board of directors of pharmaceutical giant Pfizer, also expressed hope that the Biden administration's recent announcement of $3.2 billion in funding for antiviral medications could accelerate development of effective treatments for covid-19. –The Washington Post
The goal is to keep the phony scam of a pandemic going as long as possible and continue to roll out scarier variants to convince people the rulers are telling the truth.
Stay alert. This is not the end.  We could be at the very beginning of this scam.