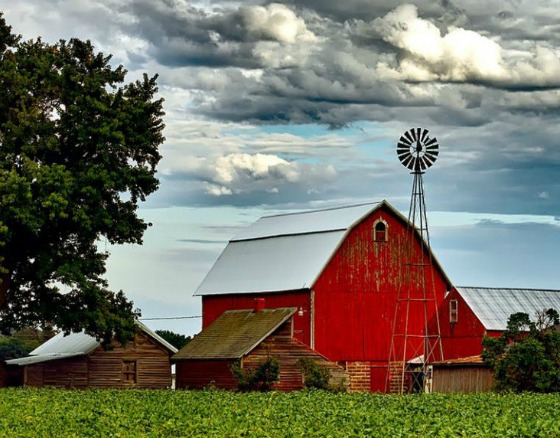 Farmers in the United States are currently burdened by levels of debt not seen since the farm crisis of the 1980s.  This terrifying strain on our nation's food providers could ultimately have a horrific and possibly apocalyptic effect on the already strained food supply.
The rapid increase in debt held by Americans is a common theme in recent economic discussions.  While the mainstream media largely ignores the massive debt overload of both the government, corporations, and individuals, many others can read between the lines.  Once the defaults start, they will cause an exponential ripple effect that could take down the entire economy, and our food supply. 
https://www.shtfplan.com/headline-news/food-crisis-in-the-making-farm-bankruptcies-reach-horrifying-levels_11282018
Not only is farming a demanding job (physically and attempting to comply with increasing government regulations while staying afloat) but it's financially taxing.  And farmers are covering their losses by using debt: borrowed money, that many won't be able to ever repay. According to Reuters, this debt is disastrous because it will eventually affect our food supply. The amount of debt held by America's farmers has risen rapidly to 1980s-levels to $409 billion from $385 billion last year. Loan demand is remaining "historically high," U.S. Agriculture Secretary Sonny Perdue said on Wednesday.
"Farm debt has been rising more rapidly over the last five years, increasing by 30 percent since 2013 – up from $315 billion to $409 billion, according to USDA data, and up from $385 billion in just the last year – to levels seen in the 1980s," Perdue said in his testimony to the House Agriculture Committee.   "Relatively firm land values have kept farmer debt-to-asset levels low by historical standards at 13.5 percent, and continued low interest rates have kept the cost of borrowing relatively affordable." But that doesn't mean farmers won't have issues repaying the massive debts they have incurred.
Further reporting by Reuters claims that the debt figures reflect a level of strain on the U.S. farm belt that is comparable to the agricultural crisis of three decades ago. However, this time, the debt burden is driven by lingering weakness in commodity prices, storms damaging crops, and loss of key export markets such as China due to President Donald Trump's trade disputes. Of course, that's part of the problem, but the media conveniently leaves out any kind of fault of the government. Government regulations and price fixing of agricultural products (food) make it difficult for farmers to make any kind of profit, and if they do, they are heavily taxed like the rest of us. In the 1980s, thousands of farm operations financially collapsed after producers dealing with government-mandated low crop prices fell behind on high-interest land and equipment loans.
The Trump administration has agreed to give up to $12 billion in aid for farmers to offset their losses from the unnecessary and disastrous trade fights and tariffs. Perdue said more than $8 billion has already been paid out as a part of those programs to date. USDA has also made it clear that there will not be an aid package for 2019.
Farm incomes and agrarian credit conditions continued to erode in the second half of 2018 and as for bankers, one key concern has been the amount of farmland that could come up for sale in the coming months and whether that could trigger an across-the-board drop in land prices, bumping up the debt to asset ratio. "I get more phone calls from bankers these days than farmers," Austin Scott, Congressman from Georgia, said at the hearing.
https://www.shtfplan.com/emergency-preparedness/survive-anything-chapter-2-food-crisis_12052010
"If we have learned one thing studying the history of disasters, it is this: those who are prepared have a better chance at survival than those who are not." –Tess Pennington, The Prepper's Blueprint