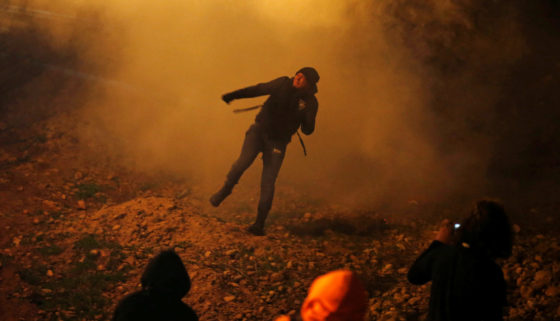 Some United States border patrol agents have used tear gas on migrants who were reportedly throwing rocks in Tijuana, just south of San Diego.  However, some witnesses say the gassing of those on the southern border was unwarranted.
The authorities say they repelled an attack by "violent" rock-throwers by using tear gas, according to a report by RT. In footage provided by Reuters, a man is seen picking up and throwing a tear gas canister back over the barrier while a group of Spanish-speaking migrants cheers and whoops loudly. As the cloud drifts closer to those gathered, migrants can be seen covering their faces and fleeing, with some choking on the fumes.
The incident took place on New Year's Eve, with migrants telling Reuters that they expected security to be lax during the first night of 2019 due to celebrations.

However, it turned out not to be the case: as the migrants prepared to climb the fence, U.S. Customs and Border Protection agents retaliated with tear gas and arrested 25 people, including two teenagers. –RT
In its statement following the incident, USCBP (United States Customs and Border Protection) said that the volleys were not aimed at migrants attempting to cross the border illegally but at those throwing rocks at the agents who attempted to prevent the agents from helping the children being dropped over the border fence, according to numerous sources. "Border Patrol agents witnessed members of the group attempt to lift toddler sized children up and over the concertina wire and having difficulty accomplishing the task in a safe manner," the statement said. "Agents were not in a position to safely assist the children due to the large number of rocks being thrown at them."
"The deployments were not directed at the migrants attempting entry on the U.S. side or at the fence line," the agency insisted. They dispersed "smoke, pepper spray, and CS gas to a position upwind of the rock throwers." USCBP also argued that none of the crossing migrants, including children, suffered from the effects of the gas dispersed, as the targeted perpetrators stood further away from the fence.
A witness cited by Reuters said he did not observe any rocks being hurled at the agents, but saw a migrant being hit by an object that looked like a gas canister. According to RT, The Department of Homeland Security spokesperson Katie Waldman accused "a violent mob of migrants" of "attacking" the border patrol force with "projectiles," saying the agents used "the minimum force necessary" to thwart the attack on the border and defend themselves. USCBP estimated that about 150 migrants attempted to sneak into the United States illegally during the incident.