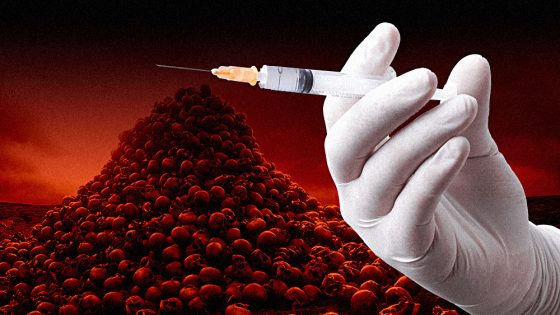 Even the vaccine doesn't get away with not having to quarantine these days. The ruling class has now put its own Pfizer vaccine in quarantine after it allegedly got too cold.
According to a report by CNBC, doses of Pfizer's vaccine were quarantined in California and Alabama after an "anomaly" in the transportation process caused the storage temperature to get too cold. U.S. officials said Wednesday they quarantined several thousand doses of Pfizer's coronavirus vaccine in California and Alabama this week after an "anomaly" in the transportation process caused the storage temperature to get too cold.
It says a lot when these people trying to force a vaccine on all of us quarantine their own vaccine after forcing everyone to quarantine and lock themselves in their own home for months on end.
Army general Gus Perna said that the vaccine "never left the truck," during a news briefing Wednesday. "We returned them immediately back to Pfizer and we sent immediate shipments to replace those two trays. We're working with the FDA now, CDC, FDA, and Pfizer to determine if that anomaly is safe or not, but we're taking no chances and we can see that."
Pfizer's vaccine, which was developed with German drugmaker BioNTech, requires a storage temperature of around minus 70 degrees Celsius.
Even a Military-Enforced Quarantine Can't Stop the Virus, Study Reveals
"All the way on the other side of the country in Alabama, two trays were received at one location. Same anomaly went to minus 92. We were able to stop and quarantine the vaccine, stop and get a replacement shipment to Alabama," he said.
It's unclear what caused the storage temperature to fall. A Pfizer spokesperson issued the following statement: "The returned shipments – totaling ~3000 doses – will be reviewed internally by Pfizer following our quality investigative process, however, it's Pfizer's vision that its customers should not have to wait while these reviews take place. As designed, the control tower was able to intercept the shipments and seamlessly trigger resupply to be delivered to those customers."
Americans began receiving some of the first shots of Pfizer's vaccine on Monday after the Food and Drug Administration authorized the vaccine Friday.
Perna said vaccine deliveries in the U.S. remain on track, with another 886 orders expected to be shipped across the nation Thursday. The federal government delivered 2.9 million doses of Pfizer's vaccine this week. Next week, the government plans to ship an additional 2 million doses of Pfizer's vaccine as well as 5.9 million doses of Moderna's vaccine if cleared by the FDA, Perna said. –CNBC
Does anyone actually believe Moderna's vaccine won't be approved.