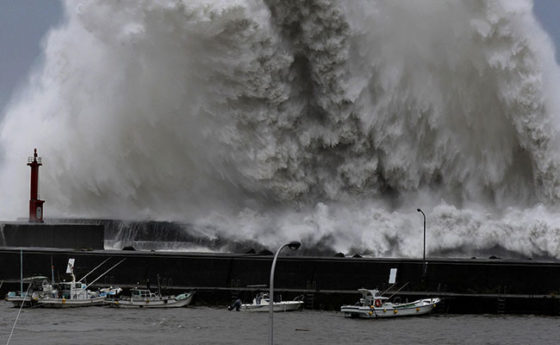 A powerful typhoon named Jebi slammed into Japan killing six people and injuring another 90.  The storm was so strong that winds tossed a 2,600-ton tanker into a bridge.
Jebi was named appropriately.  The typhoon's name means "swallow" in Korean. Jebi was briefly a super typhoon and is the latest harsh weather to hit Japan this summer following rains, landslides, floods and record-breaking heat that has killed hundreds of people.
This was the strongest typhoon to strike Japan since 1993. The typhoon first made landfall on the island of Shikoku and then again near Kobe on Honshu, before heading out to the Sea of Japan in the evening. As the typhoon made landfall, a 71-year-old man was found dead under a collapsed warehouse, and a man in his 70s fell from the roof of a house and died, NHK public television reported, adding more than 90 were injured.
The bridge that was damaged by the tanker connected Kansai International Airport in Osaka, which was built on a man-made island in a bay, to the mainland. The bridge was heavily damaged but the tanker was empty and none of its crew was injured, the coast guard said.
According to ABC, the strength of typhoon Jebi's winds also tipped over a truck and a van traveling across a bridge there, pushing the vehicles to the side of the bridge.
https://twitter.com/08030229j/status/1036848559771901952?ref_src=twsrc%5Etfw%7Ctwcamp%5Etweetembed&ref_url=http%3A%2F%2Fwww.abc.net.au%2Fnews%2F2018-09-04%2Fjapan-typhoon-sends-2600-tonne-tanker-crashing-into-bridge%2F10200814
In Kyoto, debris picked up by the typhoon's strong winds was flung into the glass ceiling of the central train station, causing the glass to fall into the atrium below. Some of the glass was said to "narrowly miss several people."
Evacuation advisories were issued for more than 1 million people, and more than 700 flights were canceled according to Japanese media tallies. High-speed bullet train services were suspended from Tokyo west to Hiroshima. Tokyo escaped relatively unscathed, with some intermittent squalls.