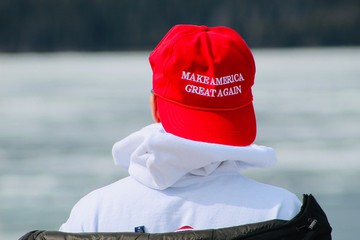 Supporters of President Donald Trump took to the streets of Baltimore to clean up the trash plaguing the city. Volunteers cleaned up 12 tons of trash as the mainstream media continues to degrade those who organized the cleanup.
Hundreds of MAGA supporters participated in a massive cleanup effort earlier this week in West Baltimore, inspired by President Trump's tweets, along with a conservative activist who organized the event in Rep. Elijah Cummings' district. According to WBAL-TV Baltimore, on August 5, 300 volunteers took to the streets of northwest Baltimore, cleaning up trash from alleyways in an "Americans Helping Americans" event organized by conservative activist Scott Presler.
As ZeroHedge reported, the left is now incredibly angry that a Trump supporter would voluntarily try to improve the condition of Baltimore's streets.
.@baltsunopinion: Whatever he says his motives were, Scott Presler's presence in Baltimore reinforces the tired image that the poor people in this city can't take care of their own neighborhoods. https://t.co/EleeVh4ZPm

— The Baltimore Sun (@baltimoresun) August 6, 2019
Presler has already responded to the angst saying: "I can't even imagine what would cause a person to be mad at us for helping to clean up Baltimore. Instead of criticizing us, how about putting on some gloves to pick up trash." Presler said his motives were simply to help others because the government won't do anything to help anyone. "The people of Baltimore love their country and love their city and 'they're proud to live there,"  he said.
Baltimore locals from Representative Cummings' District 7 thank President @realDonaldTrump for bringing attention to Baltimore. #AmericansHelpingAmericans pic.twitter.com/RxQtliHPc2

— #ThePersistence (@ScottPresler) August 5, 2019
He put out a tweet on July 28 to his followers on Twitter, asking for help in the cleanup effort. By the 29th, he had nearly 100 volunteers from across the country. According to a report by ZeroHedge, Presler felt it necessary to keep the details of the cleanup effort secret, for fear that the far-left Antifa group might show up and cause trouble. He said there were no incidents during the event itself, apart from the fact that the cleanup team needed more dumpsters.
Presler said city officials wouldn't grant him a permit to store dumpsters on the street. "For 3 days, we respectfully called the office asking for an update," he said in an August 7 tweet. "The city of Baltimore never approved the permits, so we did it, anyway."
This is probably not the only time we will hear of this Trump supporter's efforts to clean up cities ruined by democrats.  Presler said a second cleanup effort in the city could be imminent and already has 30 volunteers. People have been reaching out to him in deindustrialized areas across the country who want to start similar efforts.