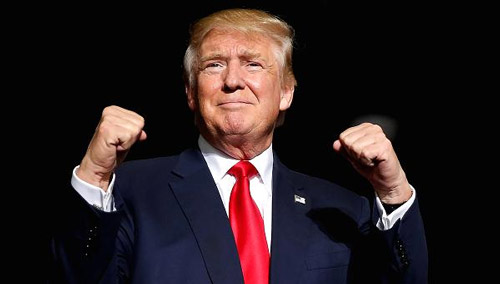 According to Reuters, Hillary Clinton has a 90% chance of winning the election unless Donald Trump can win two of the key swing states of Michigan, Florida or Pennsylvania. This, of course, explains why Clinton held a star studded concert in Philadelphia last night in an attempt to attract audience members who would have otherwise stayed home had Bruce Springsteen not been the real headliner.
Trump, on the other hand, continued to fill venues to capacity across the country with miles-long lines and standing room only.
And though many national and electoral polls have Hillary ahead, the odd mainstream polling data showing a Clinton win despite a massive response from Trump supporters appears to be easily explained by what senior strategist Robert Cahaly of the Trafalgar Group calls the "neighbor ballot test."
It's a sign Trump's share of the vote is being underestimated, Robert Cahaly, senior strategist for the Trafalgar Group of Atlanta that conducted the unorthodox survey, told LifeZette.

…

Cahaly says the "neighbors" numbers back up the "shy Tory" theory — that respondents are shy about saying they will vote for a candidate or cause that has been tagged as racist or distasteful by the media and popular culture. The most recent case was the British exit from the European Union, or "Brexit," as it is called.

Source: LifeZette
According to that 'neighbor' ballot test, Trump is destroying Clinton.
Provided that the vote counting in Michigan, Pennsylvania and Florida is legitimate and not plagued with illegal or dead voters, it appears that Trump is set to take not just two of these states, but all three of them:
Pennsylvania
Clinton: 46.51%
Trump: 48.43%
Johnson: 2.30%
Stein: 1.08%
Other/Undecided: 1.69%
(1300+ Respondents, MOE +/- 2.68)

Florida
Clinton: 46.13%
Trump: 49.72%
Johnson: 2.43%
Stein: 0.62%
Other/Undecided: 1.09%
(1100+ Respondents, MOE +/- 2.89)

Michigan
Clinton: 46.82%
Trump: 48.52%
Johnson: 2.89%
Stein: 0.90%
Other/Undecided: 0.87%
(1200+ Respondents, MOE +/- 2.77)

Commenting on the survey, TFG Senior Strategist Robert Cahaly said, "Though the results vary from state to state, these four surveys have one thing in common: question 2 points to where we think 'hidden Trump voters' are."

Cahaly continued, "We have believed for weeks that the actual Clinton/Trump final numbers will fall between the ballot test and the neighbors ballot test."

Cahaly concluded, "We expect Trump to have an overwhelming victory in Georgia, an outside the margin of error win in Florida, as well as close wins in Pennsylvania and Michigan."
In short, one of the reasons that this years polls have been widely skewed from one candidate to the other is that there are a lot of voters out there who have not honestly answered the question of who they will vote for if they are a Trump supporter. This is due in part to the fact that a large swath of Hillary Supporters, and even Clinton herself, have referred to Trump leaning voters as racists, bigots and  misogynists. 
Those "shy" voters will have no such problems inside a private voting booth, which suggests, based on Trafalgar's survey results, that they will overwhelmingly lean towards Trump in key swing states.
If the vote counting is on the up-and-up, these surveys show a hands-down Trump win.
Watch: The 5 States Hillary Must Steal To Win The Election
Related: "Trump Will Be ALLOWED To Win," Only to Be Blamed For The Coming Financial Crash