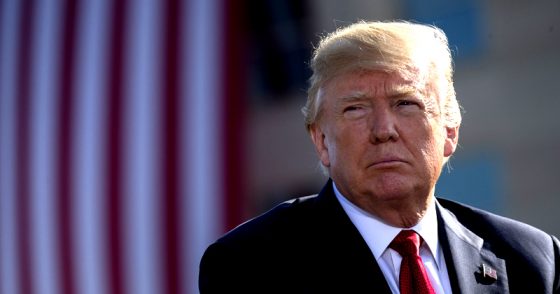 President Donald Trump has tweeted in support of himself testifying in the impeachment "hoax."  He is said to be calling House Speaker Nancy Pelosi's bluff after she broached the idea, deeming the proceedings as a "no due process hoax."
According to RT, the president has warmed to the idea of testifying in the "phony impeachment Witch Hunt," he tweeted on Monday, explaining that "even though I did nothing wrong, and don't like giving credibility to this No Due Process Hoax, I like the idea & will, in order to get Congress focused again, strongly consider it!"
Crediting his change of mind to"Crazy, Do Nothing Speaker of the House, Nervous Nancy Pelosi," Trump hinted he might testify in writing – after weeks of railing against the proceedings and declaring he did not want to"give credibility to a corrupt witch hunt."
https://twitter.com/realDonaldTrump/status/1196425928768929792?ref_src=twsrc%5Etfw%7Ctwcamp%5Etweetembed%7Ctwterm%5E1196425928768929792&ref_url=https%3A%2F%2Fwww.rt.com%2Fusa%2F473726-trump-testify-impeachment-hearing-tweet%2F
The only good thing about the impeachment hearings is that there isn't much real "legislating" (freedom trampling) going on right now.
Trump has released transcripts of two calls with Ukrainian President Volodymyr Zelensky to combat allegations he withheld military aid in order to pressure Ukraine into reopening a corruption probe targeting natural gas company Burisma Holdings, and none of the witnesses who have testified before the impeachment committee have been able to point to firsthand knowledge of the alleged quid pro quo. But House Democrats have hinted they will bring other presidential misdeeds into evidence, including deeming a disparaging tweet during a witness' testimony "intimidation." –RT
While it certainly looks like democrats are grasping at straws, it's possible they will be successful in the impeachment. Some say the Democrats wouldn't have taken it this far if they weren't certain they'de get the outcome the wanted, however, look how long the Mueller investigation wore on.  At this point, when the government is nothing more than a dog and pony show with military force to back up their nonsense, not much can be ruled out, unfortunately.