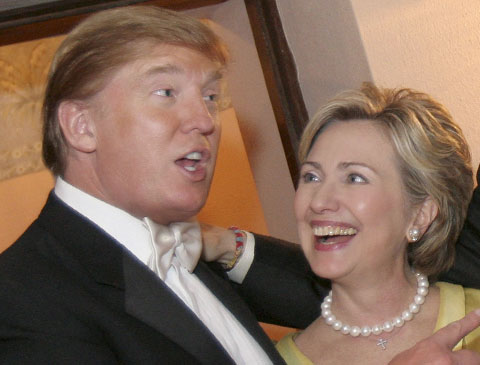 This article was written by Joshua Krause and originally published at The Daily Sheeple.
Editor's Comment: Whether or not you agree with Donald Trump's position on restricting Muslim immigration to the United States, it is clear that Hillary Clinton, as Secretary of State, has done far more damage to the lives of Syrians, Libyans, Egyptians and others in the Middle East than Donald Trump ever could – by sponsoring covert regime change and targeting leaders of countries that they and their dancing partners in the Middle East want to takeover and remap.
Trump Blasts Hillary: "She's Killed Hundreds of Thousands"
by Joshua Krause
Over the weekend, Donald Trump was interviewed by Chris Wallace on Fox News, where he had the opportunity to defend his proposed policy on temporarily restricting Muslims from entering the US. After responding to some of his critics, he went on to point out how Hillary's actions as Secretary of State were truly devastating for the Middle East.
"She is the one that caused all this problem with her stupid policies. You look at what she did with Libya, what she did with Syria. Look at Egypt, what happened with Egypt, a total mess." He Further added that "She was truly—if not the—one of the worst secretaries of state in the history of the country. She talks about me being dangerous. She's killed hundreds of thousands of people with her stupidity."
Though he didn't elaborate on the specifics, his claim has merit. Our foreign policy under Hillary was and still is a disaster. Our government supported the overthrow of the Libyan government, and continues to push for the overthrow of Assad. Previously, these were stable nations that were on friendly terms with our government, and now they are basket cases.
And yes hundreds of thousands of people have died, and continue to die in the civil wars our government supported. However you feel about Trump, you have to admit he has a point here.
This article was written by Joshua Krause and originally published at The Daily Sheeple.