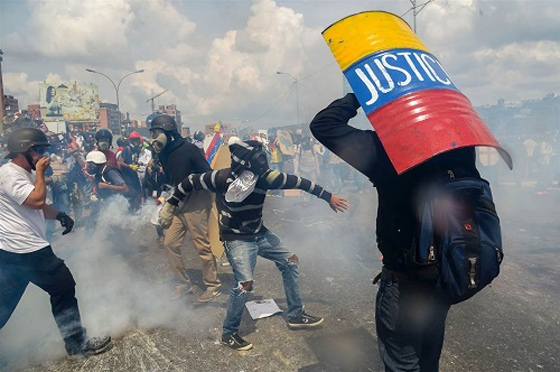 United States officials are claiming the president Donald Trump has been asking his aides about a "Venezuela invasion." The suggestion of obvious war allegedly stunned those present at the meeting, including U.S. Secretary of State Rex Tillerson and national security advisor H.R. McMaster.
This account of the previously undisclosed conversation comes from a senior administration official familiar with what was said also claims the conversation only lasted five minutes, according to The LA Times.  The official spoke on the condition of anonymity because of the sensitive nature of the discussions.
Venezuelans are currently suffering under a harsh dictatorship called "democratic socialism" and a majority are struggling to find food to eat. A war could further devastate an already destitute nation.
As a meeting last August in the Oval Office to discuss sanctions on Venezuela was concluding, President Trump turned to his top aides and asked an unsettling question. Trump wanted to know why he can't just invade the quickly unraveling country, said the official. During the exchange, according to Vanity Fair, McMaster and others took turns explaining to Trump how military action could backfire and risk losing hard-won support among Latin American governments to punish President Nicolas Maduro for taking Venezuela down the path of dictatorship.
Although president Trump gave no indication he was about to order up military plans, he pointed to what he considered past cases of "successful gunboat diplomacy" in the region; like the invasions of Panama and Grenada in the 1980s. according to the official and as reported by The LA Times. 
On August 11 of last year, the very next day after Trump asked about invading a destitute nation, the president shocked the entire US with talk of a "military option" to remove Maduro from power. The public remarks initially were dismissed in US policy circles as the sort of "martial bluster" people have come to expect from the reality TV star turned commander in chief.
However, it was not long after his talk of invasion and "military options" that he raised the issue of a conflict with Venezuela with the Colombian President Juan Manuel Santos, according to the US official.  Two high-ranking Colombian officials who spoke on condition of anonymity confirmed the report.
Within days, Maduro rounded up support from pro-government allies to "invade" the United States. "Mind your own business and solve your own problems, Mr. Trump!" thundered Nicolas Maduro, the president's son, at the government-stacked constituent assembly. "If Venezuela were attacked, the rifles will arrive in New York, Mr. Trump," the younger Maduro said. "We will take the White House."