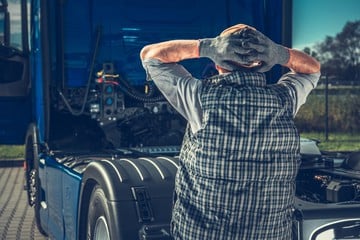 The trucking industry is experiencing a "bloodbath." So far in 2019, at least 2,500 truckers have lost their jobs as companies go bankrupt as a major recession indicator keeps going negative.
According to Yahoo, six trucking companies have completely folded in 2019 and hat has left more than 2,500 truck drivers unemployed. And after a hugely profitable year in 2018, this year has seen retailers and manufacturers moving less, according to the Cass Freight Index, which has been a pretty spot-on indicator of a recession.
Additionally, truck drivers who own their business or work at a small business are suffering more and more as the year drags on. Rates in the spot market, in which retailers and manufacturers buy trucking capacity as they need it rather than through a contract, sank by about 18% year-over-year in June. That has caused truckers like Demetrius Wilburn, a Georgia-based driver, to find themselves unemployed.
Wilburn bought his semi-truck four years ago after years of working as a company truck driver. But amid rock-bottom rates, Wilburn wasn't able to make a payment one month — and his truck was repossessed. "I was only six months away from paying it off," Wilburn told Business Insider. "I'm trying to transition back into law enforcement now — don't want to ever drive trucks again!"
"Definitely not worth it," a Lexington, Kentucky-based owner-operator Chad Boblett told Business Insider. Boblett that some truck drivers were seeing a "bloodbath" in just how low rates had become.
Truckers' Fears Are At RECESSION LEVEL HIGHS As They Warn Of "Bloodbath" And Bankruptcy
Starlite Trucking, which has been in business for 40 years, announced on July 12 that the company was closing down. The company was based in Ceres, California which is about 100 miles southeast of San Francisco.  The company mostly hauled livestock feed, nuts, and other products for the agricultural region. CEO Colby Bell said in a statement on Facebook that the rising compliance costs (the costs of keeping up with regulations and laws) of California regulations gutted the company, particularly as rates have stagnated.  "We tried to provide a healthy work environment for our employees and give them the best wages and benefits we could, but in the end, the rates that were available did not support the cost structure needed to compensate our employees appropriately," Bell said.
All indicators are pointing to an economic recession or crash in the next year and the trucking industry is highlighting just how hard it can be for working Americans to get by. Whether it's regulation compliance or a decrease in demand, the general working class is having a rough time right now.
The economic and monetary disaster which seasoned prognosticator Peter Schiff predicted is no longer hypothetical-it is here today. And nobody understands what to do in this situation better than the man who saw it coming. For more than a decade, Schiff has not only observed the economy, but also helped his clients restructure their portfolios to reflect his outlook. What he sees today is a nation facing an economic storm brought on by growing federal, personal, and corporate debt; too little savings; and a declining dollar. –Crash Proof 2.0: How To Profit From The Economic Collapse, by Peter Schiff

Schiff infamously called the Great Recession of a decade ago an in his book, he details ways to actaully profit when the United States enters another recession by preparing your finances.

Peter Schiff: There's A BIG Problem With The Economy, 'Americans Are BROKE'