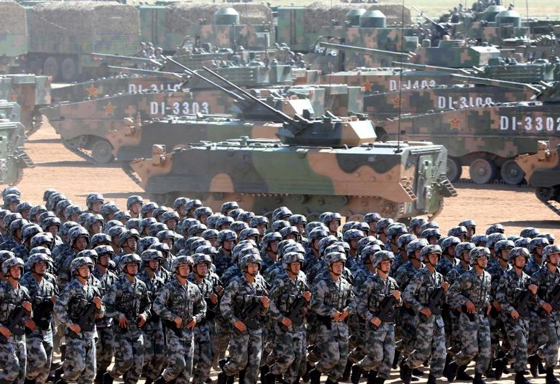 The trade war rhetoric continues to heighten tension between the United States and Chinese governments.  The president of Communist China, Xi Jinping even said that "no one is in a position to dictate to the Chinese people," when referencing U.S. demands during the trade war.
There appears to be no end in sight to the economically destructive trade war banging up the wallets of the American consumer. According to CNBC, Xi is set to signal on Tuesday whether his idea of progress aligns with the West's increasingly vocal demands for less state control. That could have significant consequences for whether the U.S. reaches a trade deal with China by the end of its 90-day tariff ceasefire. Xi called for his country to "stay the course" and emphasized that "no one is in a position to dictate to the Chinese people what should or should not be done."
This year, Xi abolished the presidential term limit for his one-party-led country. The clause "Xi Jinping Thought on Socialism with Chinese Characteristics for a New Era" was also added to the Chinese constitution, following mentions of former Chairman Mao Zedong's and Deng's contributions. –CNBC
Meanwhile, the U.S., and more specifically, Donald Trump, is stepping up pressure on China with tariffs on the bulk of the country's exports to America. Beijing retaliated with duties of its own, and the escalating trade tensions between the world's two largest economies have roiled global markets. Trump and Xi reached a temporary ceasefire earlier this month with the U.S., agreeing not to increase tariffs if the two countries can reach some resolution on issues such as forced technology transfer within 90 days.
So far, there have been no resolutions. This month's arrest of Meng Wanzhou, chief financial officer of Chinese tech giant Huawei, in Canada for alleged violation of U.S. sanctions has only increased tensions. Adding to geopolitical concerns is China's detainment of two Canadians in the last week.
"The United States is closing the door to the prospect of compromise with China over economic practices and henceforth insisting on a decisive return to the earlier spirit of reform and opening as it was understood internationally," The Chinese Dashboard, a joint project between the Asia Society Policy Institute and the Rhodium Group stated. "China's private sector is shrinking for the first time in two decades — an extraordinary development contrary to the hopes seeded by the 2013 economic reform objectives and decades of talk about withdrawing the state from the marketplace," the Dashboard said in its Fall 2018 report.
It sure would be nice if the U.S. withdrew the state from the marketplace too. Some Americans are now beginning to worry about the economy which is on life support and the trade war.  More trade war rhetoric threatens to push the already strained economy to snap.