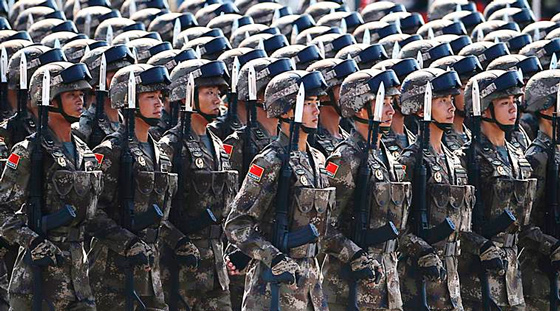 The trade war is ratcheting up military tensions between the United States and China. So far, this war is being paid for by the American consumer in the form of higher costs and lost jobs, but it could eventually lead to a military conflict.
Military tensions have risen in the beginning stages of the trade war when on Tuesday, China refused to allow U.S. warship entry to Hong Kong next month.  The Trump administration levied unprecedented penalties last week on a Chinese military procurement agency and its director for allegedly purchasing Russian combat aircraft, claiming a violation of U.S. sanctions.  Not to mention the tensions already heightened thanks to the tariffs and ongoing trade war threating to break the wallets of American citizens.
"It all adds up," said Jean-Pierre Cabestan, who teaches U.S.-China relations at Hong Kong Baptist University. "It plays into the hands of the conservatives like Xi Jinping in China's leadership that Trump's real intent is to contain China's rise."
Tensions rose further when on Wednesday, president Donald Trump accused China of attempting to interfere in the U.S.'s midterm elections. Trump said he had evidence, but didn't provide any. He also said he and Xi might no longer be friends. The Chinese government responded quickly to Trump's accusations. "We do not and will not interfere in any country's domestic affairs," Chinese Foreign Minister Wang Yi said at a session of the United Nations Security Council, through a translator. "We refuse to accept any unwarranted accusations against China."
According to Bloomberg, the U.S. State Department said its sanctions on the Chinese military's Equipment Development Department weren't intended to undermine the military capabilities or combat readiness of any country, but rather to impose costs on Russia in response to alleged interference in the U.S. election process.
"In China, they are debating how they can respond and there are some who say, 'We have to strike back,'" said Collin Koh Swee Lean, a research fellow at Singapore's S. Rajaratnam School of International Studies. The country's military actions this week are a way of "showing displeasure without crossing the line into something more serious."
China has already announced that they will cut tariffs on non-US goods imported into the country as a way to protect their citizen from skyrocketing costs of the unnecessary taxation by the US government. This move is to combat the economic damage done by retaliatory tariffs in response to Trump's insistence on a trade war.
Right now, it would appear that China has the upper hand while American citizens will be left footing the bill for this trade war.