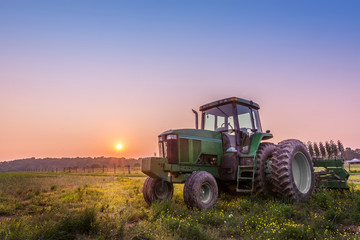 As the trade war continues to rage on, it is causing severe pain in the United States' economy. Bankruptcies are surging and are way past the level seen before the last recession.
Farmers all across the country are going bankrupt at an astounding rate. Now, over half of all farms in the U.S. are now losing money and there doesn't appear to be any relief coming down the pipes. According to a report by Zero Hedge, bankruptcies in three regions covering major farm states last year rose to the highest level in at least 10 years.
The Seventh Circuit Court of Appeals, which includes Illinois, Indiana, and Wisconsin, had double the bankruptcies in 2018 compared with 2008. In the Eighth Circuit, which includes states from North Dakota to Arkansas, bankruptcies swelled 96%. The 10th Circuit, which covers Kansas and other states, last year had 59% more bankruptcies than a decade earlier. –Zero Hedge
All of these bankruptcies affect every single human being.  We all eat, and the food system is already perched precariously on a cliff. The debate is still currently ongoing as to whether or not the economy is headed for a major disaster in the form of a recession. Either way, it's safe to say that the farm industry has already hit bottom. But is it rock bottom yet?
https://www.shtfplan.com/headline-news/food-crisis-in-the-making-farm-bankruptcies-reach-horrifying-levels_11282018
And now, the floods have all but destroyed what little some farmers had left. The floods which have pummeled the Midwest are inflicting a devastating toll on farmers and ranchers at a second after they can least afford it, elevating fears that this pure catastrophe will grow
"While you're dropping cash to start out with, how do you tackle further losses?" asked Clint Pischel, 23, of Niobrara, Nebraska. Pischel's lowland fields were flooded by the ice-filled Niobrara River after a dam failed. He spent Monday gathering 30 lifeless child calves from his household's ranch on this northern area of the state, discovering their our bodies beneath big chunks of ice. "There's no more durable enterprise to be in," Mr. Pischel added according to The Mayne Press.  "However with demise and the whole lot else, you've obtained to reply to bankers. It's not our alternative."
https://www.shtfplan.com/headline-news/weather-patterns-go-crazy-nebraska-flooding-has-broken-17-records-and-farmers-are-being-absolutely-devastated_03182019
"There's [sic] not many farms left like this, and it's most likely over for us too, now," stated Anthony Ruzicka, whose alfalfa and corn fields have been crammed with large ice chunks. "Financially, how do you get well from one thing like this?
Farmers, by and large, struggle with massive amounts of debt – relying on borrowed money to make ends meet.  The Trump administration's "bailout" has done little to alleviate the pain that was caused by the government.