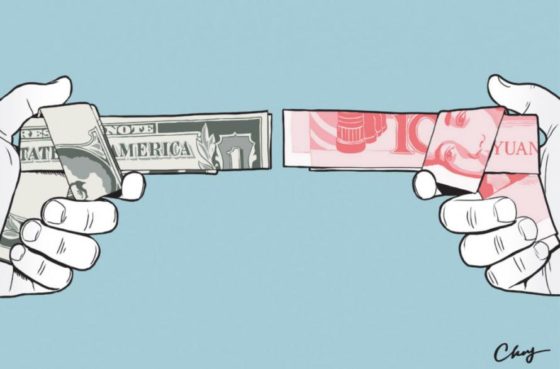 In retaliation for tariffs leveled on China, the Communist government has returned the favor, and set tariffs on $60 billion worth of goods imported from the United States.  It only took mere hours for China to respond to the announcement that the US would place tariffs on $200 billion in Chinese goods.
If the U.S. continues to raise its tariffs, China will respond in kind, according to a report by NPR. This current ramp up in the trade war sets the stage for yet another set of tariffs and sky-high tensions between the US and China. On Monday, president Donald Trump also threatened to add levies on about $267 billion of additional imports if China retaliated.
When announcing the tariffs against China on Monday, Trump said China's trade practices, such as forcing U.S. companies to transfer technology to Chinese firms, "plainly constitute a grave threat to the long-term health and prosperity of the United States economy."
"The Chinese side reiterates that the aim of imposing these tariffs is to prevent trade frictions from escalating and it is a measure of last resort against American unilateralism and trade protectionism," the Chinese state television report said. China's Commerce Ministry also made a post on their website which accuses the U.S. of causing an "economic emergency" in China and forcing China to retaliate.
The newly imposed tariffs will start at 10 percent and rise to 25 percent in 2019 if China does not make concessions to the U.S. A senior Trump administration official stated on Monday that, while it seeks changes in China's trade policies, the U.S. is "not trying to constrain China's growth. … We remain open to negotiations. We hope that China will come to the table and address the concerns we have raised."
But the trade war itself is concerning to businesses and investors, who have warned that the U.S. may not come out on top in this war and that it's the American citizen who will bear the cost of the rhetoric. Moody's, the credit-ratings agency, said the tariffs will hurt the world economy "by distorting prices and creating inefficiencies globally. Companies that rely on global supply chains will likely hold off investment decisions given the uncertainty around tariffs."