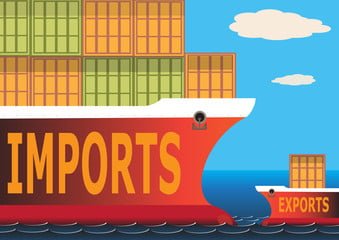 The trade deficit has widened yet again in the aftermath of the trade war. The gap increase was due, in part, to the increase in automobile imports from Mexico and other countries.
The U.S. trade deficit rose to $55.5 billion in May from $51.2 billion in April. It is now the highest it has been all year. The U.S. exports were up 2% in May, to $210.6 billion. The U.S. shipped more soybeans, autos and parts, passenger planes and networking equipment, according to Market Watch.
However, imports increased more widening the trade deficit. Imports increased a larger 3.3% to $266.2 billion. The U.S. imported more foreign autos, oil, semiconductors, computers, and cell phones. And auto imports hit a record high. In spite of the trade war and the tariffs, the U.S. is on track to record a larger annual deficit in 2019 than during the prior-year. This is because trade gaps have increased with other key partners such as Mexico, Europe, and Canada. The deficit with Mexico in May, for example, was the largest ever.
The widening trade deficit will also likely drop the GDP (gross domestic product).  Exports have largely stalled in the United States while imports continue to rise.
The wild card is the ongoing trade fight with China that's hurt both countries. The two sides agreed last week to put off pending tariffs and resume negotiations, though the outcome is far from certain. That's likely to weigh on the U.S. and global economies for as long as the dispute drags on. –Market Watch
One of the goals of President Donald Trump's trade war and the resulting tariffs was to close the trade deficit.  But that makes the entire thing look like a farce as the one thing he's attempting to prevent is happening at much larger rates. China and the U.S. have called off the pending tariffs and decided to return to negotiations.  Let's hope this time the trade war ends for good.