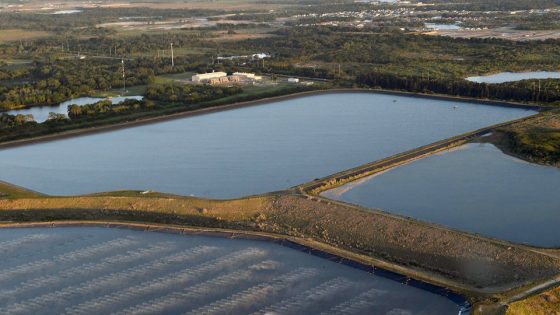 A wastewater reservoir in Florida is said to be on the verge of collapse. Should it actually collapse, the result would be a "catastrophic event."
Hundreds of residents in Manatee County, Florida, were ordered to evacuate their homes over Easter weekend as officials feared that a wastewater pond could collapse "at any time." On Saturday, Florida Governor Ron DeSantis declared a state of emergency for the area.
Due to a possible breach of mixed saltwater from the south reservoir at the Piney Point facility, I have declared a State of Emergency for Manatee County to ensure resources are allocated for necessary response & recovery.

— Ron DeSantis (@GovRonDeSantis) April 3, 2021
County officials said the pond, located at the former Piney Point phosphate processing plant, had a "significant leak," according to CBS affiliate WTSP-TV. The Manatee County Public Safety Department told people near the plant to evacuate due to an "imminent uncontrolled release of wastewater."
It's getting more and more difficult to believe these events are random or coincidental.
"A portion of the containment wall at the leak site shifted laterally," said Manatee Director of Public Safety Jake Saur, "signifying that structural collapse could occur at any time."
At a press conference Sunday morning, DeSantis said officials are pumping out 33 million gallons of water a day from the pond, and that the water "is not radioactive," although another official added that the water is "not water we want to see leaving the site." The primary concern, DeSantis said, is the nutrient makeup of the water, which contains metals. Reports on water samples should be available in the coming days.
"We're hoping that we can just continue to get the water out in an efficient way to prevent a catastrophic event," DeSantis said.
Officials said at the meeting that the greatest threat, for the time being, is flooding. Even after days of pumping water out of the reservoir, there are still roughly 3,450 million gallons of wastewater that could suddenly be unleashed. –WBTV
As JW TV Show on YouTube pointed out, it appears that things are being shifted more quickly to climate change. They want to change the way people live and the COVID-19 hoax was merely a small step toward their goal. "What is the end game to all this? To put you on smart islands," he says.

JW begins talking about the Florida wastewater debacle at 1:52 into it after speaking briefly of the 4.0 earthquake in Los Angeles.

"This will open up a playing field for the climate agenda in Florida…it's other agendas that this is going to lead up to," says Jw. Everything we are being exposed to and all of the things that are happening are rolling into an agenda. If they collapse this thing, "this is going to be as big as Fukushima," says JW.

We live in crazy times. Stay alert and prepared. Refuse to live in fear. The rulers fear a lack of fear and critical thinkers who are already free and know no one owns them over anything else, other than a majority figuring out what they have done. We are on the verge of humanity waking up and then maybe, for the first time in human history, we can have real freedom.

[DISPLAY_ULTIMATE_SOCIAL_ICONS]