This article was contributed by James Davis at Future Money Trends.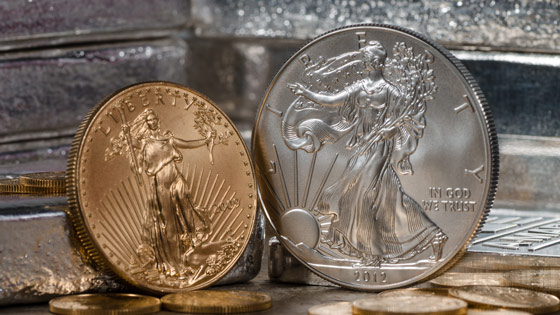 I'm probably going to shock you, but I am currently CAUTIOUS WITH precious metals.
Gold and silver have been GENERATING SPECTACULAR returns for us in 2020, especially if you caught the bottom with silver since we're up more than 50% since.
Gold stocks and silver stocks have been CHEWING THROUGH WALLS and delivering massive gains as well.
Right now, though, gold is swimming in the HIGH SEAS. It's playing with price targets that are FOREIGN TO IT. Goldman Sachs sees it hitting $2,000, Bank of America sees $3,000, and Rob McEwen predicts $5,000.
Silver is SO, SO CLOSE to hitting $20/ounce and it's up nearly 60% since April!
We should begin to entertain the thought that precious metals are going to face TREMENDOUS RESISTANCE in the days and weeks ahead, perhaps the most excruciating seller momentum ever as short-term traders TAKE PROFITS on both the physical metals and the stocks.
This is SUPERIORITY!
In 1980, Paul Volcker, then FED Chairman, gave fiat currencies air by raising rates to over 15%. Doing so stopped the INFLATIONARY MADNESS of the 1970s, but it also birthed the beginning of the end for America's middle class and savers.
He basically CREATED THE TOP for government interest rates.
Look at the chart above and you'll notice how he stopped gold from entering a point where it would have covered more than the ENTIRE CURRENCY SUPPLY.
At $850/ounce, gold had backed the dollar again by free-market forces in 1980.
Nixon essentially freed it up in 1971 to CALL BULLSHIT on the $35:1 conversion, and in nine years, it achieved that goal.
Had this happened once more in 2020, the price would be north of $20,000/ounce.
In other words, today's gold price of $1,820 is EQUIVALENT TO gold's price in the mid-1970s when it traded for $60.
We need to put things INTO CONTEXT, and today, gold covers only 5% of the dollars in existence, which means that $850 in 1980 is like $36,000 today!
Goldman Sachs has put S&P 500 earnings for the full year at $115, which means that at 3,200 points, the P/E ratio is currently 27.8.
In this environment, VALUATIONS of the classical kind are less meaningful than in previous times since so much liquidity is pumped into the currency system that stocks serve as an INCOME HEDGE to governments and corporate bonds.
The S&P 500 dividend yield is 1.93%, which is 300% MORE THAN the yield of the benchmark 10-year Treasury bond.
A pension fund, university endowment fund, sovereign wealth fund, insurance company, and wealthy institution will CHOOSE STOCKS over bonds in this world.
Stocks are now bond replacements, which is the reason investors are willing to pay ADDITIONAL PREMIUMS for them, but there's a limit to that.
We're entering a DEEP RECESSION. In it, many Americans will be suffering.
Don't wait for Trump, Biden, or anyone else to dig you out of the situation you find yourself in.
Create your own destiny; this is a time for CALIBRATING CAREER CHOICES.
Struggling industries, such as travel, leisure, hospitality, restaurants, retail stores, banking, insurance, energy, and commercial real estate are SPEWING LAVA with opportunities to fill roles of leadership and innovation.
Capitalize on the leadership gap and assume your position in history!