Editor's Note: Our geo-political analyst Jeremiah Johnson has repeatedly warned of the rising tensions on the Korean peninsula. Based on the following report from ZeroHedge.com, It appears that the issues may soon boil over as President Trump prepares decapitation strikes on North Korean leadership and an all-out assault on the country's nuclear program. While many have discounted this as a non-threat, consider the consequences should America launch an attack. Does North Korea have Inter-Continental Ballistic Missiles with nuclear warhead capabilities? Are they able to fire an electro-magnatic pulse weapon over the continental United States via one of their two top secret military satellites? Or are their 50 missing submarines capable of launching a short-range nuclear warhead at targets on the East and West coasts? We really won't know until after the fact, which is why we have urged our readers to review their nuclear preparedness plans and stock up on equipment designed to save your life in the event of a nuclear, biological or chemical event.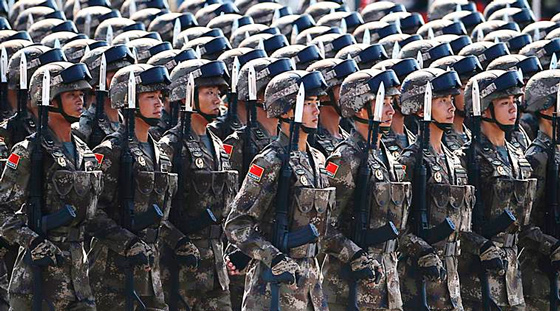 ---
Originally published at ZeroHedge.com:
"Time Is Running Out" – China Is Planning For A Crisis Along North Korean Border
Despite Chinese officials reassurance that "military means shouldn't be an option," WSJ reports that China has been bolstering defenses along its 880-mile frontier with North Korea and realigning forces in surrounding regions to prepare for a potential crisis across their border, including the possibility of a U.S. military strike.
While all eyes in America are once again distracted by "Russia"-related narratives and the dismal GOP efforts to replace, repeal, re-who-knows-what Obamacare, the threat of North Korea has not gone away… and neither has China's preparations. As President Trump stepped up the rhetoric, pressuring China to do more to 'solve' the North Korean problem, and threatening military action to halt Kim's nuclear weapons program ambitions, it is clear that China has used this crisis to not just prepare for potential problems with North Korea but to reinforce military forces elsewhere.
The Journal writes that a review of official military and government websites and interviews with experts who have studied the preparations show that Beijing has implemented many of the changes in recent months after initiating them last year.
Recent measures include establishing a new border defense brigade, 24-hour video surveillance of the mountainous frontier backed by aerial drones, and bunkers to protect against nuclear and chemical blasts, according to the websites.

China's military has also merged, moved and modernized other units in border regions and released details of recent drills there with special forces, airborne troops and other units that experts say could be sent into North Korea in a crisis.

They include a live-fire drill in June by helicopter gunships and one in July by an armored infantry unit recently transferred from eastern China and equipped with new weaponry.
China's Defense Ministry didn't respond directly when asked if the recent changes were connected to North Korea, saying only in a written statement that its forces "maintain a normal state of combat readiness and training" on the border.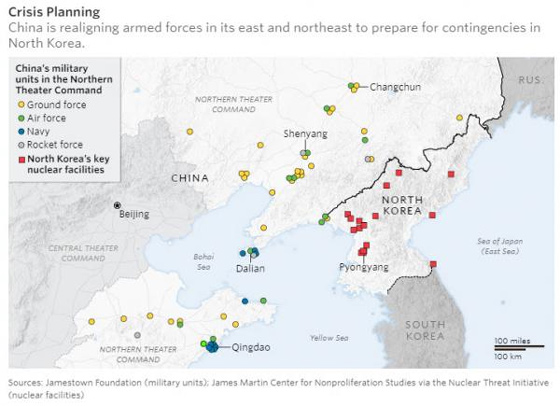 While Chinese authorities have been preparing for North Korean contingencies – including economic collapse, nuclear contamination, or military conflict – according to U.S. and Chinese experts who have studied Beijing's planning, perhaps more intriguing, as Mark Cozad, a former senior U.S. defense intelligence official for East Asia, now at the Rand Corp, explains..
  China's contingency preparations "go well beyond just seizing a buffer zone in the North and border security."
In other words, China is not letting a good crisis go to waste. Coad goes to note:
"Once you start talking about efforts from outside powers, in particular the United States and South Korea, to stabilize the North, to seize nuclear weapons or WMD, in those cases then I think you're starting to look at a much more robust Chinese response."

"If you're going to make me place bets on where I think the U.S. and China would first get into a conflict, it's not Taiwan, the South China Sea or the East China Sea: I think it's the Korean Peninsula."
As The Journal further notes, Beijing also appears to be enhancing its capability to seize North Korean nuclear sites and occupy a swath of the country's northern territory if U.S. or South Korean forces start to advance toward the Chinese border, according to those people. That, they say, would require a much larger Chinese operation than just sealing border, with special forces and airborne troops likely entering first to secure nuclear sites, followed by armored ground forces with air cover, pushing deep into North Korea. It could also bring Chinese and U.S. forces face to face on the peninsula for the first time since the war there ended in 1953 with an armistice – an added complication for the Trump administration as it weighs options for dealing with North Korea.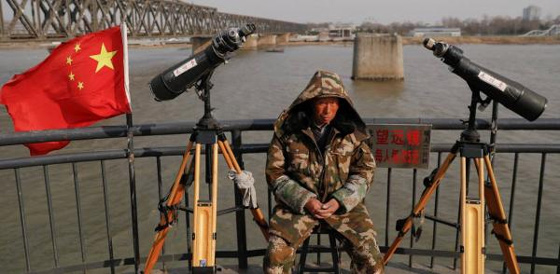 China has long worried that economic collapse in North Korea could cause a refugee crisis, bring U.S. forces to its borders, and create a united, democratic and pro-American Korea. But as WSJ's Ben Kesling  reports, China's fears of a U.S. military intervention have risen since January as Pyongyang has test-fired several missiles, including one capable of reaching Alaska. In a notably outspoken article written in May, retired Maj. Gen. Wang Haiyun, a former military attaché to Moscow now attached to several Chinese think tanks, made his view clear (while carefully noting he did not speak for the PLA)…
China should "draw a red line" for the U.S.: If it attacked North Korea without Chinese approval, Beijing would have to intervene militarily.

"Time is running out,… We can't let the flames of war burn into China."

China should demand that any U.S. military attack result in no nuclear contamination, no U.S. occupation of areas north of the current "demarcation line" between North and South, and no regime hostile to China established in the North, his article said.

"If war breaks out, China should without hesitation occupy northern parts of North Korea, take control of North Korean nuclear facilities, and demarcate safe areas to stop a wave of refugees and disbanded soldiers entering China's northeast," it said.
Beijing's interests "now clearly extend beyond the refugee issue" to encompass nuclear safety and the peninsula's long-term future, said Oriana Skylar Mastro, an assistant professor at Georgetown University who has studied China's planning for a North Korean crisis.
"China's leaders need to make sure that whatever happens with (North Korea), the result supports China's regional power aspirations and does not help the United States extend or prolong its influence," Ms. Mastro said.
In other words, China may appear to be preparing for a North Korean crisis… but is really building its capabilities should President Trump decide the time is right for more international distractions.