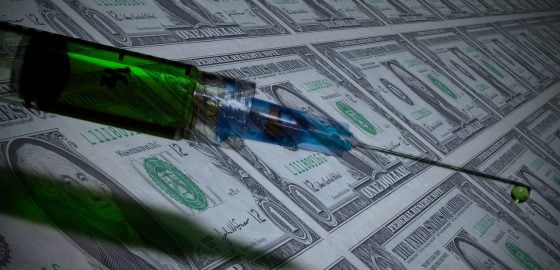 The Australian government has secured a deal for a COVID-19 vaccine with big pharmaceutical company AstraZeneca. Under the deal, the Australian government would manufacture the vaccine and offer free doses to all citizens.
Time is running out!  The vaccine is coming.
British-based AstraZeneca is developing the vaccine in partnership with Oxford University, with advanced trials now underway with thousands of volunteers across multiple countries. "The Oxford vaccine is one of the most advanced and promising in the world, and under this deal, we have secured early access for every Australian," said Prime Minister Scott Morrison in a statement released late Tuesday local time. "If this vaccine proves successful we will manufacture and supply vaccines straight away under our own steam and make it free for 25 million Australians."
The goal is to vaccinate every human being on earth with a coronavirus vaccine, and no one really knows all of what's in these shots. Apparently, the deal is still in the early stages. Both parties have signed a Letter of Intent. A final formal agreement at a later stage will layout more concrete details like pricing and distribution. However, the Australian government has previously indicated that it will spend billions of dollars on its vaccine strategy.
Plans like these have more than likely been in the world for far longer than we are being led to believe.  The goal has always been to vaccinate, track, trace, and surveil the entire global population turning everyone into tax cattle for the sole purpose of serving the elitists.
https://www.shtfplan.com/headline-news/invisible-ink-tattoos-could-be-used-by-the-elitesto-identify-unvaccinated-kids_12232019
Under the Trump administration, Operation Warp Speed is kicked into overdrive. The military will be used to vaccinate the public and the Pentagon has partnered with the CDC in order to make this a dystopian reality.
https://www.shtfplan.com/emergency-preparedness/the-pentagon-cdc-will-join-together-to-mass-distribute-the-covid-vaccine_08012020
AstraZeneca released early results of its closely watched Phase 1/2 trial in late July, which suggested that its vaccine candidate was safe and induces an immune response.
The Phase 2/3 trials will now aim to prove whether the vaccine protects people against the novel coronavirus. Results are expected later this year, and will depend on the rate of infection within the trial communities, AstraZeneca said.
The company has already reached agreements with several governments and organizations to produce at least 3 billion doses of the vaccine, with the first deliveries starting as early as September, it said on its website. -CNN
While everyday human beings are impoverished by the edicts of governments, AstraZeneca is raking in billions from those same governments.
Time is running out.