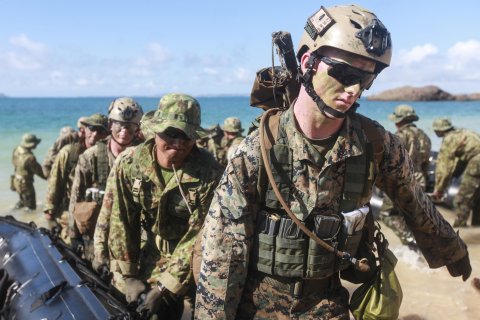 Thousands of U.S. Marines arrived in Jordan at around the same time the United States, the United Kingdom, and France were organizing a direct military strike on Jordan's neighbor, Syria.  Shortly after the US-led bombing of Syria over alleged chemical weapons use, the Marine took part in military drills.
According to Antimedia, nearly 3,600 U.S. troops, including roughly 1,800 Marines with the 26th Marine Expeditionary Unit, arrived in Jordan for the start of an almost two-week training exercise known as Eager Lion.
Thousands of Marines and U.S. troops kicked off a major military training exercise that is reportedly set to include civilian evacuation operations, as well as chemical and biological drills. The drills followed the U.S.-led Anglo-alliance's assault on neighboring Syria, which was allegedly in retaliation for a chemical attack in the Syrian city of Douma.
It will be a rare display of allied firepower, reported the Marine Corps Times.  It also couldn't come at a more tense time as U.S. Navy warships are steadily building a presence in the Mediterranean in preparation for what analysts presume will be a Tomahawk cruise missile strike on Syria.
Last year, satellite photos indicating a massive buildup of military armored vehicles sent alarm bells through Iran, Syria's ally in its nearly eight-year civil war, prompting media speculation about a pending invasion. The build-up was nothing more than the start of Eager Lion. Eager Lion was then launched from the Zarqa Jordanian military base, located near the Syrian border and roughly 100 miles from the Syrian capital of Damascus. The exercise has routinely been viewed as a pretext for an invasion of Syria by analysts and countries aligned with the Syrian regime.
"Eager Lion is a major training event that provides U.S. forces and Jordan Armed Forces the opportunity to improve their collective ability to plan and operate in a coalition-type environment," according to a press release from U.S. Central Command published April 2nd. "A wide variety of scenarios – from long-range bomber missions to maritime security operations to a ground force attack of a fictitious adversary – will occur throughout Jordan during the event."
Departing Augusta Bay, Italy, just before the US-led attack was the San Antonio-class amphibious transport dock New York which has onboard Marines and Marine Medium Tiltrotor Squadron VMM 162 (Reinforced), according to a post from the 26th MEU's Facebook page.
The timing of this "event," both this year and last, however, is incredibly unsettling.  Both came at a time when the US had decided that the Syrian government had conducted a chemical weapons attack against their own citizens.  Neither chemical attack had any evidence, and in fact, there's more evidence to suggest the attacks didn't even happen. 
While the media delivered a stunning performance on its coverage of Trump's strikes on the Syrian government, as the Marine Corps Times notes, "little has been made of the fact that thousands of U.S. and Jordanian troops will be training a short skip away from the Syrian border with armored vehicles and military aircraft."