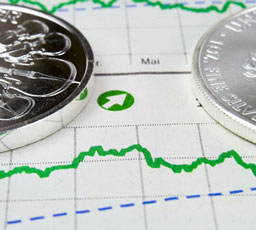 Earlier this year, as investors around the world panicked and stock markets crashed across the board, one asset class held strong and actually gained. It was, by all accounts, a capital flow panic out of broader stocks and into precious metals. As a safe haven, precious metals like gold and silver have long been sought by a panicked populace during times of crisis and given the current economic and monetary debacle created by central banks, we can safely forecast a continued rise over coming years for this reason alone.
But according to Keith Neumeyer, there is another key reason for why we could see explosive prices, specifically in silver, because major shortages loom and current valuations for the precious metal are nowhere near where they should be. Given his experience and current position as the CEO of billion-dollar mining company First Majestic Silver and Chairman of mineral bank First Mining Finance, there is no better source for understanding what's happening in silver markets today and where we can expect them to go in the mid to long-term.
As Neumeyer notes in his latest interview with The Daily Coin, gold is currently selling for about 75 times the price of an ounce of silver, but from a mining and production standpoint, the physical ratio is about 10-to-1. Coupled with growing global supply shortages for this essential metal, that means prices for silver should be trading significantly higher than they are today:
We are currently trading about 75-to-1 thereabouts and the mining ratio is about 10-to-1… so for every ounce of gold we're mining 10 ounces of silver… so that tells you it's way rarer than the market understands… I think that as gold goes higher over the next couple years, the ratio is going to collapse on a percentage basis… and that's why I think we will ultimately see triple-digit silver.
Watch the Full Interview via The Daily Coin:
Neumeyer goes on to note that the silver shortage is already becoming apparent in electronics markets, citing a recent discussion with a large electronics company that was having problems acquiring the precious metal for components in their products:
Markets go through periods of time where they're imperfect, but they do perfect themselves over time. What I mean by that is eventually supply and demand will take over, particularly in the silver space where it's such a tight market… We have seen in 2015, lower production across the board… and silver is a lot more rare than most people actually think it is…

We were contacted by a a big electronics manufacturing company… a manufacturer of televisions and cell phones looking for silver supply… In the thirteen year history of First Majestic I have never been contacted directly by an electronics manufacturer for supply of silver… so that's telling me there is something different going on in the market place… 
What's happening is that mine production slow-downs and global shortages are finally catching up with the market and electronics companies are having difficulty sourcing silver. This has been seen in other sectors as well, including the U.S. Mint and Canadian Royal Mint, both of which were forced to suspend sales of silver coins and bars respectively in 2015 as a result of high demand and lack of supply.
These are key indicators that industries dependent on silver are already running into problems acquiring the supplies needed to continue operations.
And while prices have yet to catch up, the trend is clear, especially considering the recent admission by Deutsche Bank that it has been complicit in the suppression of precious metals prices and that other large financial institutions are in on the scheme.
Given the dire state of the global economy, failing monetary policies from central banks around the world, supply-demand fundamentals, and the fact that price suppression schemes have now been exposed, one can't help but consider that the current gold-to-silver ratio will, as Neumeyer suggests, collapse to its natural state in the near future.
That can only mean one thing: higher silver prices, and perhaps as the Chairman of First Mining Finance notes, triple digit prices that will see massive capital flows into silver related assets.
To learn more about Keith Neumeyer and what his company First Mining Finance is doing to take advantage of the coming boom in silver click here.
For more informative financial interviews like the one you just watched visit The Daily Coin.