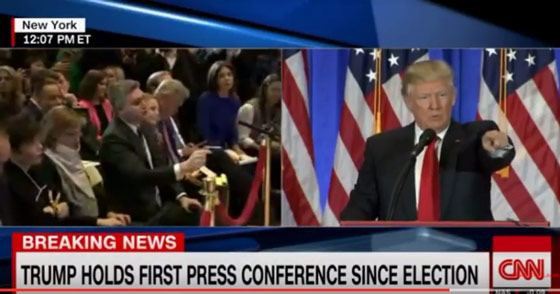 A recent "intelligence report" about Donald Trump's activities in Russia suggest that the President-Elect engaged in some sort of sexual fantasies in a Moscow hotel involving prostitutes, golden showers and Russian blackmail.
The report was originally filed by mainstream news darling Buzzfeed and was subsequently gobbled up by the rest of the anti-Trump media, including CNN.
According to a Zero Hedge investigation, it turns out that the report may have been completely fabricated as a prank by members of the 4Chan forum. The purportedly made-up story somehow made it into the hands of journalists, Senator John McCain and even the director the FBI. Posting archives at the 4Chan forums indicate that the hoax was already in play before the CIA et. al. ever made mention of it in their reports, which suggests that no actual intelligence gathering was performed.
In a story that is getting more surreal by the minute, a post on 4Chan now claims that the infamous "golden showers" scene in the unverified 35-page dossier, allegedly compiled by a British intelligence officer, was a hoax and fabricated by a member of the chatboard as "fanfiction", then sent to Rick Wilson, who proceeded to send it to the CIA, which then put it in their official classified intelligence report on the election.
Of course, Buzzfeed has their own version of events. In a post titled Alt-Right Trolls Are Trying To Trick People Into Thinking Trump Dossier Was A 4chan Prank Buzzfeed struggles to maintain credibility amid the backlash:
…the dossier's source is understood to be a former British intelligence agent whose past work was described by CNN as credible and the New York Times as "a competent and reliable operative with extensive experience in Russia." The allegations in the dossier are unverified, and the report contains errors. The papers were reportedly brought to several media organizations in the lead-up to the election.
CNN, which claims itself to be the most trusted name in news (though a recent poll shows they are actually the least trusted name in news), was part of the media organizations that pushed the Trump Golden Shower Russian Blackmail story.
In a live press conference Donald Trump addressed the so-called intelligence report, noting that none of it was true, and taking time to specifically call out the Buzzfeed story, referring to the organization as a "failing piece of garbage."
The presser quickly devolved into what is perhaps one of the most memorable moments in the run-up to Trump's swearing in when CNN reporter Jim Acosta repeatedly yelled out a request to ask the President Elect a question. The exchange shows that a Trump Presidency will be nothing like what the mainstream media has ever experienced before:
With Trump looking to call on other reporters, Jim Acosta yelled out, "Since you are attacking us, can you give us a question?"

"Not you," Trump said. "Your organization is terrible!"

Acosta pressed on, "You are attacking our news organization, can you give us a chance to ask a question, sir?" Trump countered by telling him "don't be rude."

"I'm not going to give you a question," Trump responded. "I'm not going to give you a question. You are fake news!"

As those on stage by Trump clapped, Acosta retorted, "Now, Mr. President-elect, that's not appropriate!"

Via Mediate
After the total slam on CNN, members of other media organizations can be heard clapping.
Watch the video:
Here's an incoming President who is not swayed by polls, precedent or protocol, and who speaks his mind.
Now THAT is transparency.