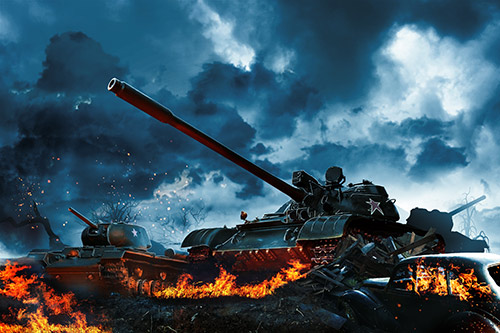 As of this writing, the U.S. has (in effect) truly commenced with hostilities and effectively stepped off on a war footing with Russia.  Vice President Joe Biden is the figurehead on this play; Biden came out and said this:
"In an NBC interview excerpt released Friday, Biden paused and gave a wry smile when asked why the US has not acted a week after US officials formally accused the Russian government of trying to interfere with the 2016 White House race.

"We're sending a message" to Russian President Vladimir Putin, Biden said, smiling and nodding his head gently.

"We have the capacity to do it and the message will be sent. He'll know it and it will be at the time of our choosing and under the circumstances that have the greatest impact."

Asked whether the public will know, Biden responded tersely: "I hope not."

AFP, The Hill "Biden: 'We're sending a message' to Putin," 10/15/16
Officials with the CIA have actually stated that the goal for the Obama administration on these measures was a "clandestine" cyber-attack designed to "harass and embarrass" the Kremlin, according to NBC News sources.  This reprisal comes after accusations that Russia has hacked into DNC e-mails and is trying to influence the presidential election in favor of Donald Trump, although no evidence was presented that concretely links Russia to the e-mails.
The official accusation came from the Department of Homeland Security and the Director of National Intelligence.  DHS already "prepositioned" itself in this regard, as can be seen in an October 1, 2016 article by Elizabeth Dexheimer entitled Wary of Election Hacks, U.S. Urges States to Get Security Help.  Here is a quote from Jeh Johnson, the head of DHS from that article:
"The agency is ready to provide any assistance to help states secure their systems, if they request it.  These challenges aren't just in the future — they are here today.  In recent months, malicious cyber-actors have been scanning a large number of state systems, which could be a preamble to attempted intrusions. In a few cases, we have determined that malicious actors gained access to state voting-related systems."
So now the U.S. government is going to actively pursue Cyberwarfare against Russia for the stated purposes of harassing and embarrassing the Kremlin.
This is on the heels of a second strike against the Russian Embassy in Damascus, Syria on October 12, 2016 that came under attack for two hours with mortar fire.  This is an indirect proxy attack by the U.S. using the terrorist groups Jabhat Fateh al-Sham [former Al-Nusra Front] and Failak ar-Rahman, both of which are armed and supplied by the U.S.  President Obama was supposed to meet with his advisors concerning the potential for further U.S. airstrikes in Syria, a meeting that the results have not been released as of this time.  Today (Saturday 10/21/16) Russian Minister Lavrov and U.S. Secretary of State John Kerry are supposed to meet to try and bring a ceasefire in Syria back to the table.
In the meantime, the Russians are sending an entire carrier group, headed by the flagship carrier of the Russian Navy, the Admiral Kuznetsov and its supporting naval vessels from Severomorsk, next to Finland, all the way around Europe and through the Straits of Gibraltar and on to Tartus in Syria.  This was reported by The Telegraph in an article Posturing Russians to send Aircraft Carrier and Fleet Along the English Channel.  To make matters worse, the British Royal Navy is going to deploy to the north of Ireland and conduct bombing drills…in the exact vicinity where the Russian convoy intends to pass.  (See photo below)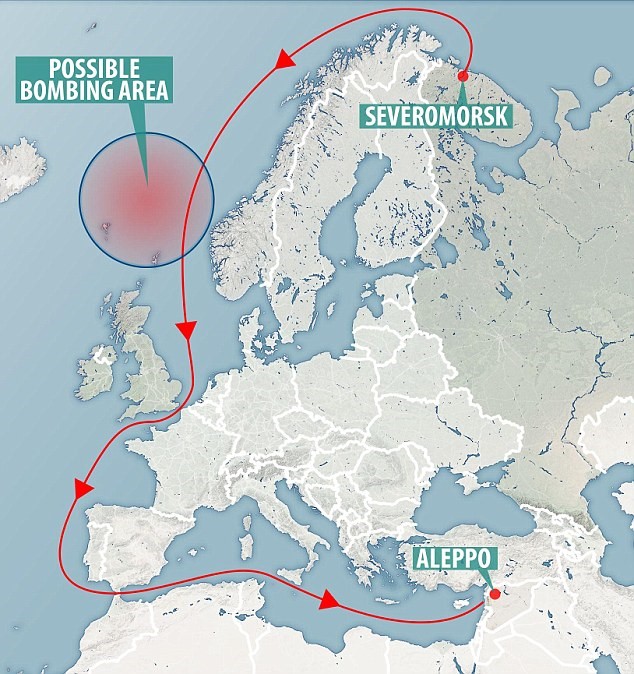 Now while all of this is occurring, the Iranian Navy has sent two destroyers to Yemeni waters where a U.S. Navy warship has drawn rocket fire by Yemeni rebels with the support of Iran.  It is well-known that the Iranians have fielded troops in Syria, and they have actively engaged in advising Assad's forces for more than a year.  As of this writing, Obama is considering military action in Yemen against these rebels who are supported by Iran.
If that isn't enough, the THAAD anti-ballistic missile system is being shipped to aid Japan and South Korea, the latter nation also requesting tactical nuclear weapons from the U.S. to repel a North Korean land invasion and/or missile attack.  China and North Korea are in an uproar over the THAAD system's deployment to the region, with repeated threats issued by Kim Jung-Un to strike the U.S. and its allies in the region with nuclear weapons.
Add to this a very ominous comment on Steve Quayle's website under "Q-Alerts," posted yesterday on October 14th that is worth reading, as posted here:
"WAR FOOTING MILITARY AND SPY COMM'S BOTH OVERT AND COVERT INCREASING -HEADS UP BRETHREN-ALL COMMUNICATION'S BOTH VOICE AND DIGITAL ARE OFF THE CHARTS-'NOT NORMAL AT ALL'

Anonymous posted:

"I rotate through Diego Garcia every 6 weeks to pull maintenance on
uplink equipment as a private contractor.  Something big is going on, the island has more aircraft than any time in the last 9 years. They have blocked off some access roads and are now parking aircraft on the road. Barriers have been set up around the aircraft areas. Temporary barracks and hangers are popping up everywhere. A tent city full of AF and Navy maintenance personnel has also been set up.

I have never seen B1s and B2s there at the same time. Actually I have
never seen more than 1 there at a time.  Security is nuts I had to show my id at least 8 times a day.  My coworker is former AF and said they are like that when nukes are around. We counted over a dozen air refueling tankers on the ground. The airfield had a take-off or landing every 15 minutes, very busy. When we flew out we waited in line for quite a while. We never had to wait in the past.

The Navy had the docks full of ships and 6 to 8 more were moored just off shore. We watched many pallets of bombs being off loaded from one ship.  There were a bunch of B-52's coming in that were painted flat black. I have not seen that before."         Oct 14, 2016
To note: Diego Garcia is a U.S. Air Force base on an island just south of India.  Obviously the commenter sees the seriousness of such movements as a key indicator the U.S. is both increasing its presence around the North Korea-South China Sea area with the potential to reach Russia as well.
The U.S. and its allies are deliberately provoking Russia.  Biden, proving himself a politician and not a statesman has announced a deliberate action against Russia, threatening her with a Cybersecurity attack, courtesy of the CIA.  There is clearly little time before the words cease and the missiles begin to fly.  The true ignominy in all of this is that hundreds of millions of lives are at risk because of (Un)American politicians willing to place power and agenda over the welfare of noncombatants.  It is ironic that they themselves are also noncombatants; however, they will be sheltered and supplied when the missiles begin to fly, unlike the rest of us who are on our own when WWIII begins.
---
Jeremiah Johnson is the Nom de plume of a retired Green Beret of the United States Army Special Forces (Airborne).  Mr. Johnson is also a Gunsmith, a Certified Master Herbalist, a Montana Master Food Preserver, and a graduate of the U.S. Army's SERE school (Survival Evasion Resistance Escape).  He lives in a cabin in the mountains of Western Montana with his wife and three cats. You can follow Jeremiah's regular writings at SHTFplan.com or contact him here.
This article may be republished or excerpted with proper attribution to the author and a link to www.SHTFplan.com.
---
Related:
Chemical, Biological, Radiological, Nuclear: Are You Ready For An Attack On U.S. Soil?
A Step-By-Step Guide To Prepare For Any Disaster
Predictive Programming: New "Designated Survivor" Series Foreshadows Continuity Of Government Emergency
Four Flash Points That Could Trigger World War III: "We Have Not Been This Close To Nuclear War In A Long Time"
How an Attack on America Would Probably Begin: Possible Courses Of Action By Foreign Military Powers