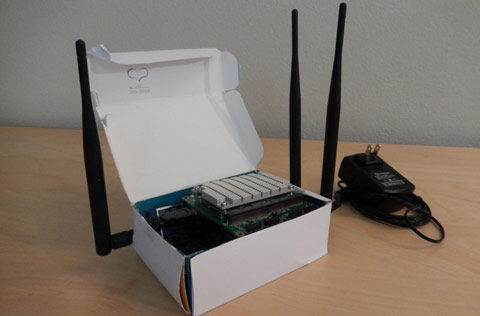 (Pictured: Proxyham by Benjamin Caudill / Rhino Security Labs)
Data collection and invasive monitoring of American citizens has been at the forefront of government activities for decades. After revelations by Edward Snowden in recent years, the fringe conspiracy theorists who warned of Big Brother surveillance and had been laughed at by the general population were finally proven right.
But despite the literal hundreds of thousands of pages of information about government snooping and the Congressional "investigations" that followed, nothing has been done to curb the unabated violations of Americans' Constitutional rights to be secure in their homes and personal effects.
Thus, as always, the free market began developing its own solutions. Earlier this year an inventor by the name of Benjamin Caudill announced a device he dubbed the ProxyHam which was going to literally change everything about how those concerned with privacy could connect to the internet:
"I PRESENT PROXYHAM, A HARDWARE DEVICE WHICH UTILIZES BOTH WIFI AND THE 900MHZ BAND TO ACT AS A HARDWARE PROXY, ROUTING LOCAL TRAFFIC THROUGH A FAR-OFF WIRELESS NETWORK – AND SIGNIFICANTLY INCREASING THE DIFFICULTY IN IDENTIFYING THE TRUE SOURCE OF THE TRAFFIC. IN ADDITION TO A DEMONSTRATION OF THE DEVICE ITSELF, FULL HARDWARE SCHEMATICS AND CODE WILL BE MADE FREELY AVAILABLE."
What Caudill had built is a device that would mix up your personal WIFI signal in such a way that no one, not even the National Security Agency, could track down where it originated.
That, of course, is not something the government wants in the hands of ordinary citizens, and the events of the last week show exactly how dangerous of a device this is to the Big Brother Surveillance State.
Just hours before Caudill was to reveal a fully-functioning ProxyHam at the DefCon hacking conference his presentation was abruptly cancelled. No reason was given and Caudill posted several cryptic Tweets that left many baffled.
The device had been disappeared, the company was cancelling production on retail units, and the source code and blueprints would no longer be released to the public.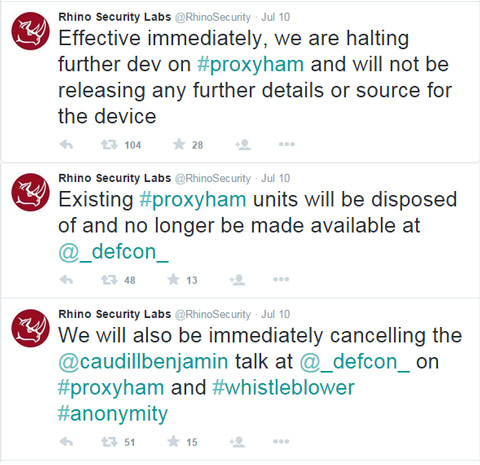 Some have suggested that a private business approached Caudill before the conference and made him an offer for retail distribution.
But the more likely scenario, given what we're privy to about the device and the government's incessant need to know everything about everyone, is that someone made Caudill an offer he couldn't refuse. Hackread explains:
There's another possibility of this sudden cancellation i.e. intrusion by the government. Maybe that is the reason why Caudill is not discussing the reason behind this halt. Even though the security firm was "excited" to unveil ProxyHam at Def Con.

Steve Ragan of CSO Online said:

"IT WOULD LOOK AS IF A HIGHER POWER – NAMELY THE U.S. GOVERNMENT – HAS PUT THEIR FOOT DOWN AND KILLED THIS TALK […] IT ISN'T PERFECT, BUT A TOOL LIKE PROXYHAM – WHEN COMBINED WITH TOR OR OTHER VPN SERVICES, WOULD BE POWERFUL."
Incidents like this give us clear insight into what the goals of government surveillance are. As we noted in 2011, well before the Snowden revelations, everything we do is monitored.
They want to know everything. They want to monitor everyone. And they will stop at nothing to accomplish their goals.
But despite these obvious attempts to maintain tight, centralized control over the populace, the hacking community has never been one to just sit back and take it from the tyrants in charge. John McAfee, known for creating one of the first virus security programs for computers, has also been working on a new gadget that would create a "dark web" of interconnected devices designed to shield individuals from government monitoring. The device, according to McAfee would cost less than $100.
The cat is out of the bag with the ProxyHam and its abilities. It shouldn't be long before source codes and blueprints for similar gadgets begin appearing on the open market.
The government can push all it wants. Freedom loving people will always push back.
Also Read:
Main Core: A List Of Millions Of Americans That Will Be Subject To Detention During Martial Law
The Real Skynet: New NSA Autonomous Weapons System Intercepts Threats and Retaliates Automatically
Twenty TRILLION Phone Calls: "They've Been Collecting Data About ALL Domestic Calls Since October 2001″