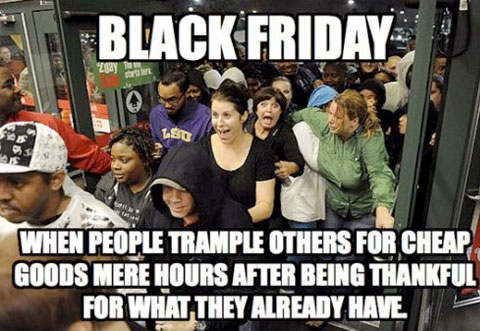 Outdoor retailers REI have sparked a revolution against the Black Friday consumer madness by encouraging people to connect with nature instead of electronics and holiday deals.
The camping, hiking and cycling giant are officially shutting their doors this Black Friday and paying its 12,000 employees for a day off where they can #OptOutside and visit parks or enjoy the Great Outdoors. The Washington Post reports:
A month ago, outdoor retailer REI announced that it would pay 12,000 employees not to work this Friday in apparent protest against the rampant consumerism that has come to characterize the day after (and sometimes night of) Thanksgiving.

The company launched a social media campaign—#OptOutside—to encourage their workers and customers to spend the day outside. Gimmick or not, the company is getting a lot of credit for spreading the idea.

[I]ts #OptOutside Twitter hashtag has been shared nearly 1 million times since the announcement nearly a month ago. Several government agencies were among the thousands to jump on the social media bandwagon and a number of states, several in partnership with REI, are opening up their parks for free.
Imagine that… going outside after a day of "thanksgiving," and saving the shopping spree for later.
REI can afford to do so because they are a consumer-owned co-op that doesn't have to answer to typical corporate shareholders, but they are also tapping into a growing segment of society that is fed up with over-the-top emphasis on binge shopping and obligatory holiday gift grabbing. They are actually upholding real values during a season that claims to be joyful and caring, but has really become greedy, materialistic and crazed.
President/CEO Jerry Stritzke, while noting that much of their sales have moved online, seemed quite at peace with breaking from the consumer ritual and returning to more traditional activities found in nature. He said the message of the atypical move resonates with their base: "once the holiday season is here, that's an incredibly important time to be outside."
More than anything, this company is offering a way out of the madness that has been seized upon in recent years, where fights, long waits and riotous consumers have shown their willingness to do anything for a bargain – including trampling upon their fellow man.
SGTReport.com hit the mark with this 2010 video:
Society has really taking a dive, and one often wonders if it is too far gone. REI has taken a rare corporate stand against the trend of banal, shameless and exploitative deals that some would literally kill or die for. There is simply too much more to life.
Meanwhile the crazy is on for far too many Americans trapped inside the consumer-holiday matrix.
The British have regrettably also now embraced the Black Friday shopping spree, and seen soaring retail profits and the expense of civility, despite not celebrating the American Thanksgiving holiday.
This man ironically went camping, but only so he could wait outside of a Best Buy for six days to buy five discount TVs.
He is so glued into the frenzy that his "tricked-out tent," set up outside the store, is outfitted with a flat-screen television and a microwave:
For the past episodes of Black Friday insanity, see:
Running Of The Sheep: America 2014 in Video: People Trampled, Brawls, Cops Assaulted, Tasers, Mayhem…
Running of the Sheep 2013: Watch the Annual Migrations, Stampedes, Arrests *Videos*
Running of the Sheep 2012: "Look At You Slaves Lined Up For Your Chinese Goods" **Videos**
Shoppers Gone Wild: America's Running of the Bulls 2011 *Videos*