Editor's Note: The following guide has been generously contributed by Dan Carpenter of The Daily Prep. We encourage you to read Dan's brief overview below and then check out his FREE and incredibly detailed Shipping Container Bug Out Shelter Guide. If you're looking for a low-cost, insanely durable and scalable bug-out or disaster shelter, then keep reading because Dan's tips, ideas and building strategies will blow you away.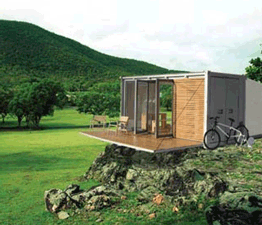 The concept of shipping container housing has gained a remarkable amount of interest over the last decade. New wave architects have readily embraced it, HGTV shows have pimped it, and for us preppers, shipping containers present a compelling option for use as bug out cabins.
But do shipping container retreats really make sense? Or are the just a fun idea rooted in impossibility?
Good question. One which the newly-published Shipping Container Bug Out Shelter Guide helps you sort out.
Shipping Container Retreat Shelters
The container shelters guide combines resources from all over the webosphere, to help preppers decide whether or not an ISBU steel box is a good fit for your bug out shelter needs.
There are a handful of really standout advantages to using containers for a retreat:
Low Cost: Done correctly, the cost savings of a shipping container build can be tremendous (particularly if you will be DIYing your build!). Shipping containers in good condition can be snagged all day long in the $2000-$5000 range. Even after cost allowances for a foundation, doors, windows, and other interior accoutrements, there is definitely some financial upside to be hand. While it might not represent the price "cellar" for a no-frills, DIY build, it's far from expensive.
Insane Durability: As you can well imagine, shipping containers are engineered to handle some serious abuse. Think about it–they are stuffed to the gills with cargo, stacked up to 7 units high on freight barges, and then spend the next several weeks being tossed around at sea. Containers are constructed of "Corten" steel, which is specifically engineered to hold up in maritime conditions–rust, salt, and corrosion. In addition to all this, the frame of a container can support up to 153,000 lbs stacked on it.
Potential for grid-independent living: Apart from the facts that container cabins have the potential to be cost-effective and uber-strong, they also increase the likelihood for grid independence. Granted, this aspect has less to do with any magical powers that shipping containers have, and more to do with the fact that a container is only 320 square feet (for a 40' container… 20' containers are half that!!). Nevertheless, this is a very real part of the shipping container equation, and it bodes well for people wanting to be grid independent. Simple logic dictates that with decreased area, comes a decreased wattage requirement. Climate control, lighting, number and size of appliances, number of electrical outlets. All these factors into an electrically streamlined house.
So what about the negatives? As with anything, there are drawbacks. A few of the more notable shipping container issues mentioned in the guide are:
Financing: Unless you are coming in with cash, or have resolved to build your container retreat little by little, there are precious few (if any!) financing options available. It's simply not in the model for banks and lending institutions. They don't have "objective" comps to measure container homes exist, and they aren't in the business of taking un-calculated risks (wait…. Did I actually just say that?) Be aware that you are treading the path less traveled by, and with a couple unique exceptions referenced in the guide, there just won't be institutional money for you.
Permitting: Even if you are able to make your container finances pencil, you'll still have the goons across the desk to deal with. Because we all live in different jurisdictions, there is not a "one-size-fits-all" solution to this. You will need to consult your local codes and ordinances and then make your best case. On the upside, this is an area where there is typically more leniency in rural areas, which coincides nicely with many people's desired bug out locations anyway.
Over-designing and over-building: One of the most prevalent temptations with shipping containers is to overbuild them. There is so much that you CAN do, that many people get carried away. Remember, it's a bug out shelter, not a frickin' Rembrandt! The goal is to create a simple, secure, comfortable bug out shelter, not some "architectural-award-winning-tofu-palace-for-hipsters." Each modification adds cost and potentially weakens the structure (punctures in the steel for windows, doors, etc).
While they aren't perfect, shipping containers do present some intriguing upside for preppers looking building a bug out cabin. If interested, check out the complete shipping container shelter guide, for in-depth resources and advice on:
Container selection
Burying Containers
Prefab vs. DIY
Selecting a site on your property
Foundation Types
Container delivery
Insulation
Heating
And much much more!
Click here for pictures, plans and resources for shipping container shelters.
Since 2010, Dan Carpenter has published articles, guides, and over 400 videos teaching people how to be self sufficient, on his site The Daily Prep. He is a Certified Permaculture Designer, and a major proponent of alternative housing and internationalization. When he's not helping people become self sufficient, you can find him eating some BBQ, reading a good book, or enjoying the mountains in Salt Lake City, Utah.