Bazillionaire financier George Soros, in a recent panel discussion in Europe, suggests we're in serious trouble:
Let's face it: we are on the verge of an economic collapse which starts, let's say, in Greece but could easily spread. The financial system remains extremely vulnerable…

We are on the edge of collapse and that is the time to recognize the need for change.

…

There is no plan B at the moment. That is why the authorities are sticking to the status quo and insisting on preserving the existing arrangements instead of recognizing there are fundamental flaws that need to be corrected.
Considering that Mr. Soros was one of the biggest proponents of "change" in the 2008 election, we find it amusing that he says it's time to recognize change now. We were under the impression Mr. Soros and his conglomerate of Obama supporters implemented said change two years ago.
We've previously opined that "change" is something that we humans vehemently object to until we are at the very precipice of disaster.
Guess what? We're back here once again.
Mr. Soros is an extremely large global financial player, so when he speaks, we ought to listen. In his book The Crash of 2008 and What It Means Soros outlined several steps with how to deal with the economic catastrophe that swept the world.
Among other things, he noted that government needed to manipulate the price of oil at or around $80 per barrel in order to implement alternative energy initiatives. More importantly, he strongly pushed for monetary easing, saying that the deflationary deleveraging of the system in 2008 required governments and central banks to first induce the opposite of what's happening in the economy (print lots of money) and then reduce it (to avoid hyperinflation). The idea was to implement a stabilizing effect.
The problem, as Mr. Soros himself points out in his book, is that once we inject the economy with massive amounts of money through quantitative easing and the like, it would be extremely difficult to pull back on the gas to induce its opposite. This is where the hyperinflationary danger comes from.
Essentially this pulling back, combined with regulation and policy changes, was "Plan B." But, given that Mr. Soros now agrees nothing has been done to fundamentally change the underlying causes for this crisis, we are about to re-collapse into a scenario potentially worse than what we saw in 2008.
We can cite horrific economic numbers that include the millions of unemployed Americans, record breaking food stamp participation, consumer sentiment, home sales, collapsing GDP, food and energy inflation, and our ever increasing national debt as evidence of how much worse things are now than in 2008.
Today, however, we have one specific chart, provided by Zero Hedge, that should solidify the fact this economy is about to roll over: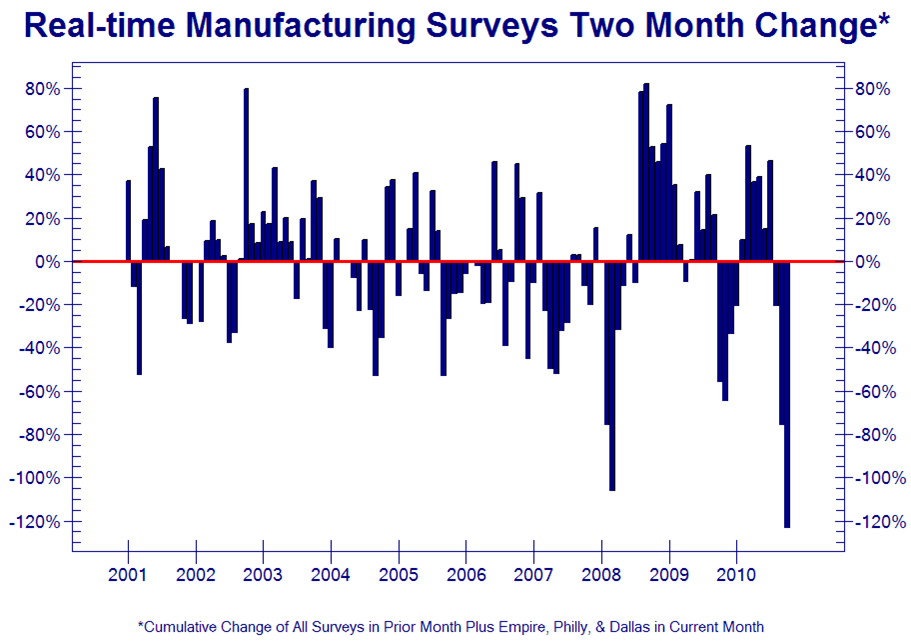 Manufacturing in this country has absolutely, without a doubt, and unarguably, COLLAPSED.
It's worse than what we saw in 2008.
Expect this data to be buried much like the recent New York Times story that reported our economy was falling apart.
We are, without a doubt, and regardless of the data machinations being propagated in the halls of our government, in another technical recession.
Moreover, this is just the next phase within the Greater Depression.
The scary thing? Most people have absolutely no clue, nor do they care to: