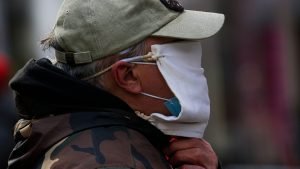 The mainstream media and the ruling class are not letting the omicron variant go without trying to ruin all of our lives. In fact, the World Health Organization wants everyone to cancel their holiday plans and just go into lockdown on their own.
World Health Organization Director-General Dr. Tedros Adhanom Ghebreyesus on Monday recommended delaying or canceling holiday events. "There is now consistent evidence that omicron is spreading significantly faster than the delta variant. And it's more likely that people who have been vaccinated or have recovered from COVID-19 could be infected or re-infected," he said.
And we all know what the real problem is. That only 61% of Americans have bowed down to their masters and obeyed the commands to get injected with an experimental gene therapy drug. About 61.4% of the population in the United States is fully vaccinated against COVID-19, according to data from the Centers for Disease Control and Prevention.
They will continue to fearmonger and attempt to panic the masses into taking these injections. It sure looks like everyone who is going to willingly get shot up has already done so. In come more fear, panic, and likely further attempts to convince the public that they need these shots. You cannot listen to anyone in the media or ruling class for a few minutes and not hear them mention getting vaccinated.
While everyone wants a return to normal, Ghebreyesus said, the fastest way to get there is to make difficult decisions to protect ourselves and others. "In some cases, that will mean canceling or delaying events," he said. "But an event canceled is better than a life canceled."Muzzle mandates and other restrictions are already starting once again in many places.
https://twitter.com/tomroussey7news/status/1472971168051249159?ref_src=twsrc%5Etfw%7Ctwcamp%5Etweetembed%7Ctwterm%5E1472971168051249159%7Ctwgr%5E%7Ctwcon%5Es1_&ref_url=https%3A%2F%2Fabcnews.go.com%2FHealth%2Flive-updates%2Fcoronavirus%2F%3Fid%3D81852482
The Netherlands went into lockdown on Sunday, lasting through Jan. 14, 2022. The new rules urge "everyone stay at home as much as possible," set limits on the number of visitors a household can receive, and limit groups outdoors to two people.
Resisting Tyranny Depends on the Courage to Not Conform