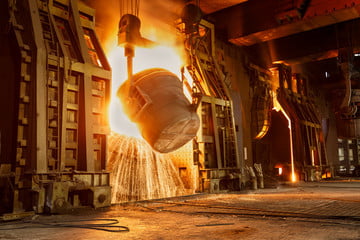 The prices for United States steel have been dropping and plant closures continue in the wake of President Donald Trump's ongoing trade war with China. After a small and brief recovery in June, layoffs and plant closures thanks to bankruptcies have returned.
There have been more job losses in the industry as steel prices have fallen this year. According to Market Realist, Bayou Steel Group filed for bankruptcy on Tuesday and the company laid off 376 workers. U.S. Steel and ArcelorMittal also curtailed some of their facilities. U.S. Steel idled two of its US blast furnaces earlier this year and the company expects those blast furnaces to be idle until at least the end of the year.
According to the Japan Times, Louisiana's Governor John Bel Edwards said: "While Bayou Steel has not given any specific reason for the closure, we know that this company, which uses recycled scrap metal that is largely imported, is particularly vulnerable to tariffs" In the release, the company said that the bankruptcy was triggered "by severe lack in liquidity at the Company, which resulted in a default with its senior secured lender, and created a situation where the Company could no longer purchase raw materials."
Last month, U.S. Steel and Nucor released downbeat third-quarter earnings guidance. The earnings could fall more in the fourth quarter because steel prices weakened last month. As more contracts roll over, companies could see their average selling prices deteriorate more.
https://www.shtfplan.com/headline-news/steel-industry-in-the-us-falling-stock-prices-layoffs_09262019
A severe lack of liquidity coupled with an inability to cope with the additional costs the tariffs have imposed upon businesses has been a running problem in the U.S. economy for most of this year. The bottom line is that steel prices are weaker due to global weakness and tepid U.S. demand and a large part of that is due to the tariffs and trade war.
The bad news continues for large swaths of the American economy and steel is no exception.  Businesses have struggled under the weight of added expenses, falling prices, and a lack of demand.  None of which can be fixed by using centralized authority to control the trade of people.