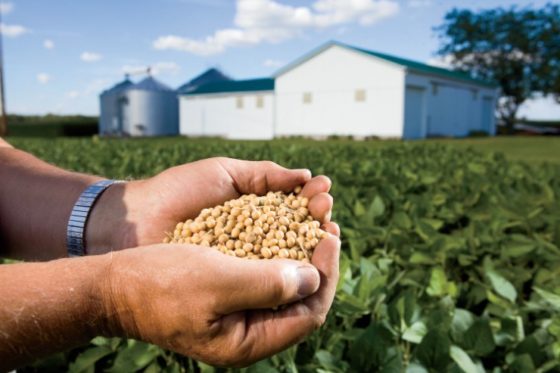 The trade war between the United States and China is proving to be a disaster for American farmers: the ones who grow and supply our food. This catastrophe is already smacking Americans in the wallets, but a bigger loss would be those who actually supply the food we pay for.
The trade war has had significant effects on American agriculture and farmers throughout the last year, ranging from soybeans, beef, dairy, wheat, and more. Not to mention the added costs of the trade war contributing to American farmers going bankrupt in record numbers. 
We hate to say we told you so, but we told you so. The trade war was a bad idea and everyday average Americans are footing the bill for this asinine policy of tariffs.  Now, the food supply could be in jeopardy because of political posturing and that will not bode well for already cash-strapped American families.

A total of 84 farms in the upper Midwest filed for bankruptcy between July 2017 and June 2018, according to the Minneapolis Star Tribune. That's more than double the number of Chapter 12 filings during the same period in 2013 and 2014 in Wisconsin, Minnesota, North Dakota, South Dakota, and Montana, reported Vox.  –SHTFPlan
As the trade war and the tariffs (taxation aka theft) that come with it remain stagnant in the minds of most, it's wholly escalating to those who are affected by it directly. "I hope they'll make strides on that," Oklahoma-based wheat farmer Hope Pjesky said recently according to Yahoo Finance. "But we really don't have any way of knowing what's happening with those negotiations now. And we need things to get back to normal."
"We're getting closer. … Negotiations [with China] are going very well," president Donald Trump stated during a recent interview with the New York Times. But that's hardly comforting to those farmers stuck between a rock and a hard place. And the tariffs on other goods are still in effect, forcing prices higher for already cash strapped Americans living paycheck to paycheck.
https://www.shtfplan.com/headline-news/new-uk-survey-shows-just-how-hard-it-is-to-make-ends-meetb_09202017
Although China has promised to buy more soybeans from the United States, farmers are worried that the damage done by the trade war is far from over and could be permanent. "It's a good movement," said John Wesley Boyd, a mid-scale farmer from southern Virginia producing on 375 acres of the soybean crop. "But I don't see the pendulum swinging back towards me as a producer in the field," he added according to the South China Morning Post.
Until 2018, the US was the largest exporter of soybeans to China, averaging at 30 million to 35 million metrics tonnes a year. That largely ended last summer when soybeans were caught in the crossfire of the trade dispute. Boyd and his fellow soybean farmers have been crushed under the weight of these trade policies and an ever-expanding government.
As the seemingly never-ending trade war soldiers on, farmers, who are directly in the crosshairs, are going to be feeling the financial burden of this unnecessary political posturing for years after it smoothes out…if it ever does.