The following article was originally published by Jim Quinn at The Burning Platform.
Editor's Note: You can call us racists or hate-filled, but the fact of the matter is that 270 million people have lost their lives throughout history because of Islamic Jihad and Sharia law. A recent survey indicates that some 50% of Muslims living in America would prefer that the United States Constitution be replaced with Sharia – an archaic, non-tolerant, violent set of laws that have no place in the modern world. It's already happening in London, where rallies for the new Muslim Mayor are being segregated so that men and women can't stand together. But it's not just London – we are seeing similar "progressive" movement towards Sharia across America. 
Where we go next is anybody's guess, given that the Obama administration is importing literally millions of unvetted Muslims into the United States. What we do know is that the U.S. Constitution and Sharia Law run completely counter to each other, so what we can expect is further violence going forward.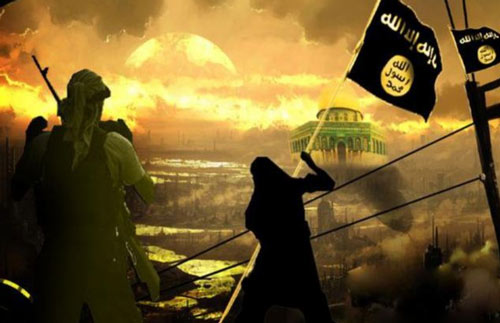 Give This 20 Minutes: A Real Lesson In Islam
By James Quinn
I know videos aren't terribly popular here unless they are under 30 seconds in length contain bouncing titties or involve music you can leave playing in the background. However, unless you've seen this video before I can guarantee you'll learn something new. Give this just 20 minutes. If you don't learn something new or something that doesn't inspire you to finish watching in the first 20 minutes then by all means give it a pass.
The speaker is Dr. Bill Warner and I posted another of his videos (they're all great) in the ISLAMIC HISTORY LESSON thread the other day when Crat, a long time TBP reader, requested some supporting info for this statement from that post:
"This strategy of jihad and Sharia law has led to the deaths of approximately 270 million non-Muslims and the total destruction of countless civilizations."
Dr. Warner covers that in this video as well. He studies all of this stuff for his own amusement and edification and he does not use the innerwebs for any of it. According to him he reads giant, really old, dusty books that no one else will read for his info. I found the title of this video "Islamic Attack on Chattanooga: Why It Happened and What to Do" a bit misleading but it takes nothing away from this presentation.
Dr. Warner touches on his personal experience and knowledge of official US and TN State government policy with regard to islam. I'm sure it won't shock you but you may be surprised. He also touches on what you can do to educate your children (and others) about islam because your children are in fact being taught about islam but they are not being taught what you might think.
The best thing about his talks is that Dr. Warner looks at things from an entirely intellectual perspective. His has no stated axe to grind with islam or muslims. He simply explains it in the explicit way that the Koran, Haddiths and Siras do. He gives you the undeniable facts plus the ability to read the source material if you care to educate yourself further. I found it interesting that he makes no judgments about islam.  He is the ultimate professor (a former job of his) IMO and I could listen to him all day because he does what all great professors do…….he makes you think. His talks are like brain candy!
I'd estimate that the majority of TBP readers are probably Christian and a much smaller number attend church regularly so this may be of interest to those of you identifying with the Christian faith. Based on his own self education with respect to islam, he has concluded that the resurgence of islam since the end of WWII is due primarily to the suppression of Christianity since that time. He uses the word "resurgence" specifically because colonialism under the French and English suppressed islam and sharia in the middle east during that time. Apart from that relatively short period, islam has been on a near continuous 1400 jihad against non-muslim civilization. He even points out that we in the west measure time with a watch or clock and muslims measure time with a calendar.
The talk is only 55 minutes long with about a 45 minute Q&A which is rather unremarkable except for one smarmy muslim piece of shit who initially asks two questions and then comes back a bit later to ask another smug question and Dr. Warner's response is perfect!
Dr. Warner's website is: https://www.politicalislam.com/
For more news and commentary visit The Burning Platform